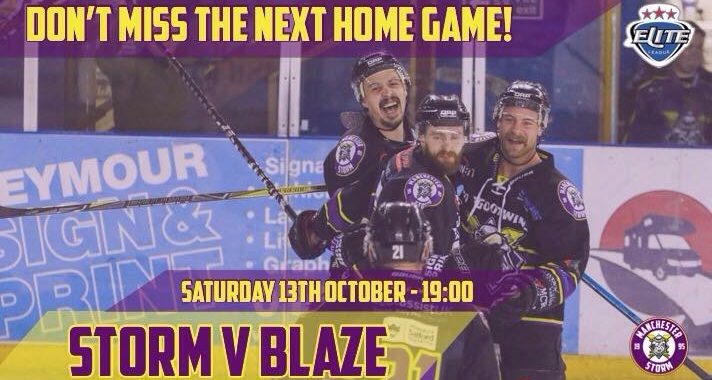 Match Report: Storm Take Another Two Points in High Scoring Game Against Clan
Tickets for Storm's upcoming game against Coventry Blaze can be ordered online HERE, or by calling the box office on 0161 926 8782, or in person at the box office
It was an exciting game from start to finish last night, as visitors Glasgow Clan faced Manchester Storm for the second time this season. After missing out by two goals last time (one empty net), Storm were determined to get two points back this time around.
After the fight between Gratton and Springer last time, there was an uncertainty in the air as to what would happen this time around. The game had it all, from top shelf goals, to handbags, and even a bit of football.
The Clan claimed the first penalty of the evening, with a bench penalty handed for too many men on the ice. Storm gave it their all on the powerplay but Clan's defencemen were on form, clearing the puck at given chances. At 6:19 Storm received their first penalty, as Moffatt headed to the box for charging. Things started to get a little rowdy when it kicked off a little bit in the corner between Travis Ehrhardt and Long. It was the two minute penalty handed to Ehrhardt for slashing at 6:46, that resulted in the first goal of the evening on the powerplay. This was put in top shelf by none other than brother Dallas Ehrhardt, assisted by Hammond and Springer at 7:35.
Both teams received coincidental penalties at the time of goal, Hammond for Slashing and Clans, Connolly for charging. Other penalties include Pitt, for late hit 11:32 and Storm netminder, Matt Ginn for tripping at 15:54. Other than that it was an exciting period of hockey, with both teams taking their chances.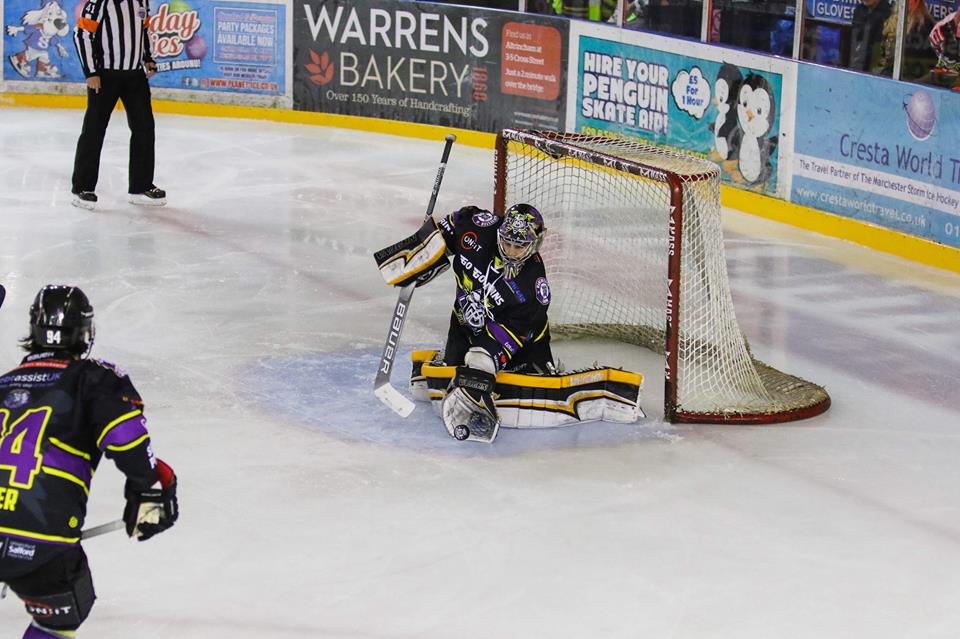 Just 27 seconds into play, Clan were given a penalty, Tanski headed to the box for interference on Byers. Storm had some great chances on the powerplay, and it was only ten seconds after being let out that Tanski returned back to the penalty box, this time for delay of game. A few minutes later at 25:09, Storm scored their second of the evening, as it went above the catcher of Rumpel, scored by Hammond and assisted by Moffatt on a drop pass. It wasn't long before Storm managed to go 3-0 up, as just three minutes later Byers put one in on a backdoor goal, passed across by Moffatt at 28:38.
Tensions rose, as it kicks off on the ice and Clan captain, Fitzgerald and Basara both headed to the box, for receiving roughing penalties. Opportunities appeared for Storm on a powerplay, as Stanisz was handed a 2+2 penalty for interference and unsportsmanlike conduct, all timed at 29:38. The second period was definitely the most rowdiest, as both teams took another coincidental penalty at 33:53, for roughing.
Clan managed to claw one back, when Connolly put a top shelf goal past Ginn, assisted by Tanski and Gratton. Things took a sudden turn as Hammond lost his stick and resorted to clearing the puck, football style across the rink on the powerplay, as Bakker sat Storm's final penalty of the evening for elbowing. Overall, resulting in a different but excellent penalty kill, with no goals conceded.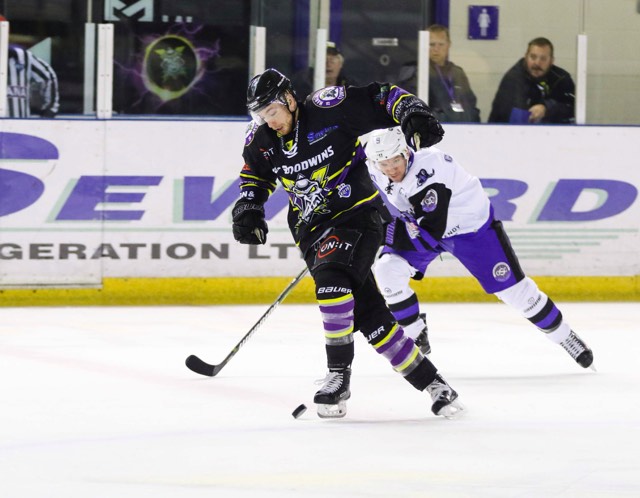 Almost five minutes into the third period, Linsmayer scored Storm's fourth of the night, breaking up the defence  in the offensive zone, assisted by Richardson and Long at 44:51. It was a night for a big goal game, as just three minutes later, Storm scored again, Hammond getting his second of the night on a turnover, assisted by Byers and Moffatt at 47:39.
Things took an unfortunate turn as Clan captain, Fitzgerald had an on ice collision on a check gone wrong by the boards and had to be taken off for treatment. There was a slight delay ten minutes into the period whilst things got cleared up. 
Storm's final goal of the night was put in just below Rumpel's pads, Linsmayers second one of the night assisted by Long and Richardson at 55:15. Clan managed to claim one back just one minute later, Connolly's second goal of the night, assisted by Gratton and Tanski. There wasn't enough time to claw back more goals however, as the game finished on a 6-1 victory to Storm.

Man of the match for Glasgow Clan went to #9, Brendan Connolly
It was a night for Storm's number one netminder #1 Matt Ginn, as he took the award for Player of the Month as well as Man of the Match.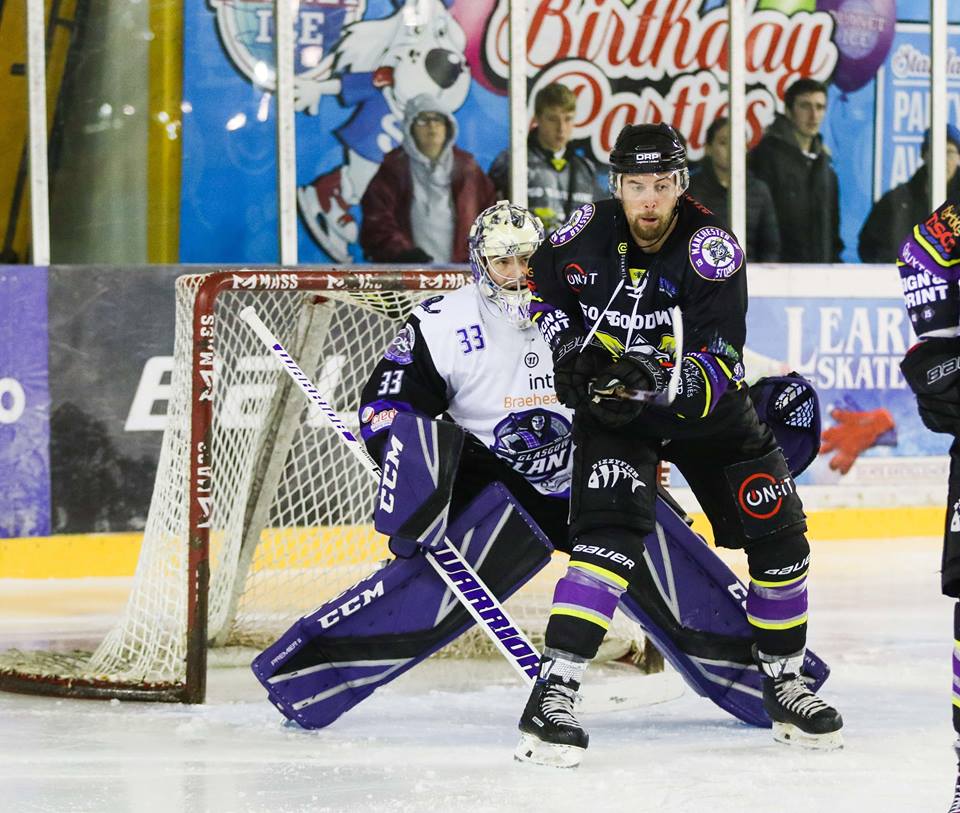 Manchester Storm's next games are EIHL conference games against Coventry Blaze, 13th October at Planet Ice Altrincham, 19:00 face-off, and 14th away at Skydome Arena, 17:15.
Treat your kids to the OSC's special spooky Halloween themed party with the team on Friday 26 October, at The Station Hotel HERE. There will be games and scary chocolate making with Oliver's Chocolate Parties.