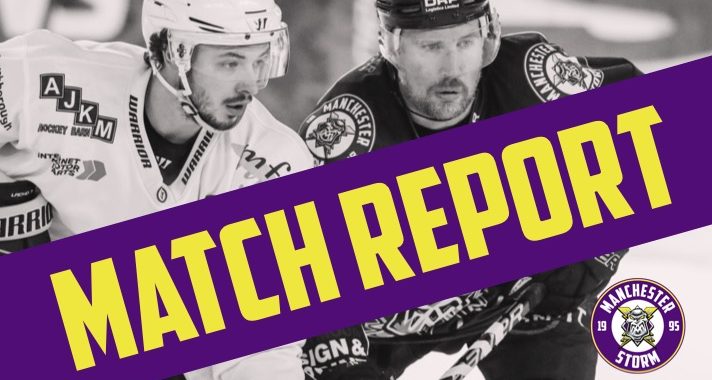 MATCH REPORT: Nottingham Panthers 6 – Manchester Storm 1 – Challenge Cup
You can next see the Storm in action on Saturday 8th December, as they face The Nottingham Panthers in the League. Tickets can be ordered online HERE, or by calling the box office on 0161 926 8782, or in person at the box office.
It was a bad night at the office for Manchester Storm, as they fell 6-1 to Nottingham Panthers, who have recently found a rich seam of good form, scoring 15 in their previous two games
Storm started strongly, with some great play. The team showed their improved power play, taking a 1-0 lead through Dane Byers. The lead lasted until 16:03, with Alex Guptill scoring his first goal of the night, the teams leaving the ice at the end of the 1st period all square.
The second period saw end to end hockey, with no penalties called against either team until half way through the period. Panthers took the lead with Richard scoring a wrist shot over the shoulder of Ginn, who made a number of excellent saves throughout the game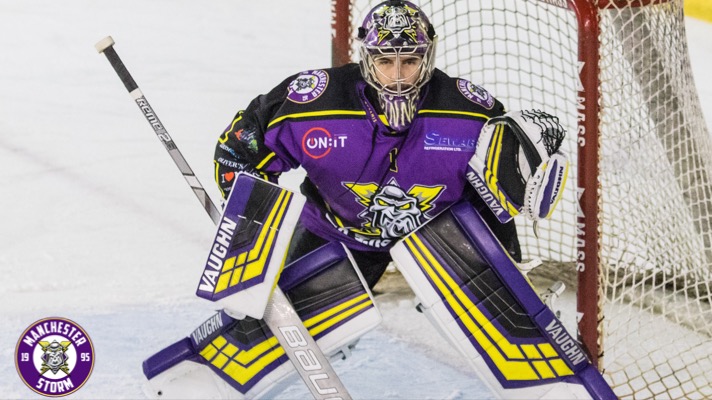 Goals three and four for Panthers went in before the end of the 2nd period, Hurtubuise scoring from assists by Guptill and Panthers goalie Garnett, Rob Lachowicz scoring the 4th.
The third period started stronger for Storm, with Moffat on a breakaway but denied a goal by Garnett. Alex Guptill went on to score his second goal of the night with the puck trickling in. This was reviewed but given as a good goal, putting Panthers up by four.
Declan Balmer dropped gloves with Robert Farmer, with both subsequently sitting 5 for fighting. Springer took exception to a play by Bolduc, both players sitting 2 for roughing, with Springer sitting an additional 2 for slashing. Panthers continued their recent pattern of scoring 5 more than their opponents with Hurtubuise his second of the night, sealing a 6-1 win for Panthers in the first leg of the Challenge Cup Quarter Final.
'The 2nd leg of the Quarter Final is on Tuesday 11th December at 19:30.
Man of the Match for Nottingham Panthers went to Alex Guptill
Man of the Match for Manchester Storm went to Dane Byers
Shots on Goal: Michael Garnett – 31
Shots on Goal: Matt Ginn – 38
Referees: Chris Wells & Tom Darnell
Manchester Storm's next home game is again against Nottingham Panthers this Saturday 8th December, 7:00pm face-off. This game is an EIHL game and is part of the season ticket.
The club's OSC are hosting the Storm's Christmas Party, Tuesday 18th December at Cresta Court Hotel, 19:00 – late. Email events.stormosc@gmail.com to book, or visit the OSC desk under block 113 on match nights.