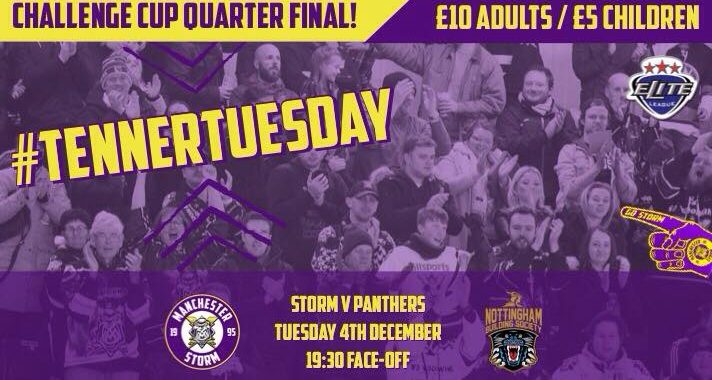 Latest News
Match Previews
PREVIEW: Tenner Tuesday Returns as Storm Face Panthers in Challenge Cup!
Tickets for Storm's upcoming game against Nottingham Panthers can be ordered online HERE, by calling the box office on 0161 926 8782, or in person at the box office. Tickets are just £10 so don't miss the opportunity!
Tonight, Tenner Tuesday returns as your Go Goodwins Manchester Storm face Nottingham Panthers in the first leg of the Challenge Cup Quarter Final – 19:30 face-off. Tickets are a bargain at just £10 for adults, students and concessions, plus kids in for £5! Tonight is also the perfect opportunity to head straight from work and bring some colleagues to their first game.
Both EIHL and Challenge Cup games between Storm and Panthers have been a competitive watch so far this season. Tonight won't be any different as Storm look to continue their point streak at home and hope to progress to the semi-finals. The second leg of the quarter final will be held on Tuesday 11th in Nottingham, 19:30 face-off.
Back in October, the Storm came out on top at home, in thrilling cup game against the Panthers. It was Ciaran Long, current top British player in the league, who scored the winning goal during the final minute of the overtime.
Head Coach and GM, Ryan Finnerty commented;
"We are looking forward to this game. Nottingham are playing the best they have all season and it's going to be a big challenge for us."
Panthers currently sit second place in the league and the Erhardt Conference behind their competitors, Belfast Giants.
STORM NEWS
Hull Pirates' centre forward, Lee Bonner will be icing with the Storm tonight. You can check out his stats here.
MATCH NIGHT INFORMATION
Doors open 4th December 18:30pm
Face-off 19:30pm
50/50 & "Chuck A Puck" can be bought from the OSC stall, underneath block 113, and from match night sellers based around the rink
Unable to make this weekday evening game? The webcast can be bought HERE thanks to Storm TV
The Station Hotel, Storm's official pub, will be open to fans for pre-match drinks
Find the information for the rinks entrance arrangements here
Please note, season ticket holders – tonight's game is not part of the season ticket.
Manchester Storm's next home game is again against Nottingham Panthers this Saturday 8th December, 19:30 face-off. This game is an EIHL game and is part of the season ticket.
The club's OSC are hosting the Storm's Christmas Party, Tuesday 18th December at Cresta Court Hotel, 19:00 – late. Email events.stormosc@gmail.com to book, or visit the OSC desk under block 113 on match nights.