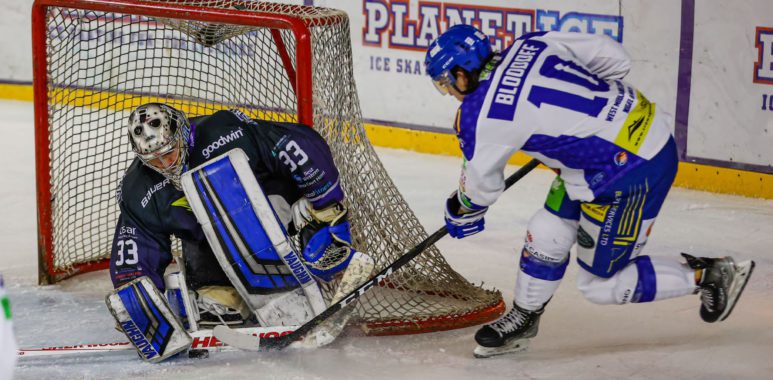 Match Report: Manchester 1-4 Coventry
A lacklustre home performance by the Storm saw Coventry take home a deserved two points with a 4-1 victory.
Despite missing their starting netminder, CJ Motte, the visiting Coventry were able to take a one-goal advantage into the first intermission. A sluggish ice surface and intelligent road game plan by the Blaze made things difficult for the hosts to find their rhythm. A breaking puck enabled Evan Bloodoff to find Hamonic free at the backpost for an easy tap-in, with 12:16 played in the game, in what would be the only goal of the opening period.
A sloppy defensive turnover by the Storm cost them a second goal, as a well-positioned Luke Ferrera fired beyond Bacashihua, in the 24th minute. An exceptional team goal by the Blaze was eventually converted by Ross Venus – in the 34th minute – with helpers going to Bloodoff and Eichstadt. The third-goal cushion created by the Blaze was pegged back through some excellent forechecking pressure from Curtis Hamilton, who forced the turnover. The aforementioned forward then passed to Tyson Fawcett, whom picked his spot with 57 seconds remaining in the middle stanza.
An effective breakout play by Coventry freed young British forward Alex Forbes, who confidently finished the 1-on-1 opportunity in the 52nd minute. This goal unfortunately nullified the pressure being built by the hosts in the final period. A resolute Blaze defence would ensure their 4-1 lead would persist until the final buzzer.