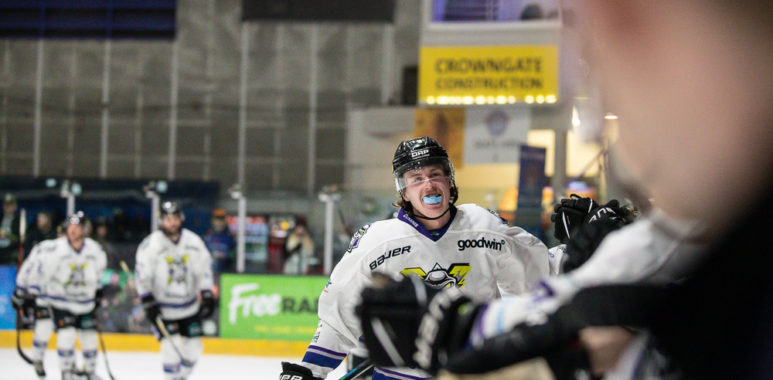 STORM BATTLE TO PICK UP POINT ON THE ROAD
A tight game at the Skydome saw Coventry run out shootout winners over Manchester on Sunday night at the Skydome.
After a scoreless opening period, the Storm started period two the better and were eventually rewarded with the lead – Joe Hazeldine cutting into the zone and beating Jordan Hedley with an excellent high wrist shot just before the midway point of the game.
Luke Ferrara tied the game at 33:25 after the Blaze piled on the pressure on the powerplay with a shot that just about crept over the line. No goal line technology was working in the building for it to be reviewed. Just over four minutes into period three, Jonny Curran stripped Medric Mercier of the puck and skated through on net, and while Jason Bacashihua stopped the initial effort Evan Bloodoff was on hand to fire home the rebound.
Curtis Hamilton crashed home a slapshot to tie the game off a good feed from Frankie Melton inside the final eight minutes to tie things up.
With no winner in 60 minutes the game went into overtime which led to a series of odd-man rushes and chances at both ends. The Blaze had the best chance with a 2-on-0 but Justin Hamonic just couldn't dig the puck out of his skates to get a decent enough shot away. Coventry almost won it on their last attack, before the Storm broke up ice and saw Tyson Fawcett shoot just wide as the buzzer sounded.
In the shootout, Jordan Hedley stopped four out of five shots with Evan Bloodoff netting the winner in round five.