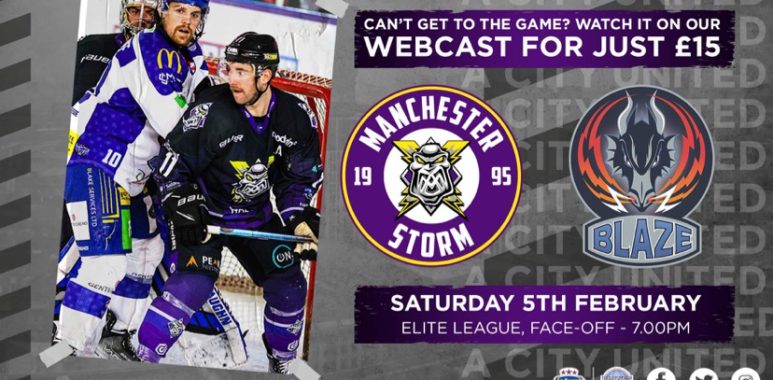 Latest News
Match Previews
PREVIEW: Double header against Blaze this weekend
Fixture change: Our game scheduled against Dundee Stars on Friday 25th February will now take place on Sunday 20th February at 18:30.
Manchester Storm vs Coventry Blaze – Saturday 5th February 2022 @19:00 – Planet Ice Altrincham
Last weekend was a four point weekend for the Storm, with back-to-back wins against Dundee Stars and Glasgow Clan. 
Join us for more EIHL action as Manchester and Coventry Blaze face each other in back-to-back games this weekend. The first game faces off Saturday at the Storm Shelter before the Storm head to Coventry on Sunday.
Doors open at 18:00 for a 19:00 faceoff. With crucial points up for grabs, expect an exciting game.
Tickets can be purchased online here. Alternatively you can book via phone by calling 0161-926-8782 or book in person at the box office. 
View Manchester Storm fixtures for the remainder of the 2021/22 season here. Please be aware some fixtures may change due to covid protocol and keep an eye out on social media for our rescheduled fixtures
WEBCAST
If you can't make Saturday's game, get the webcast via Storm TV here. 
Sunday's game in Coventry will be available to buy via Clean Cut Live here. 
TEAM NEWS 
Adam Brady sits in the top ten EIHL leaders, totalling 35 points including 13 goals and 22 assists. 
COVID-19
The legal requirement to wear face masks ended on 27th January 2022. Please continue to show kindness and consideration to any fans who may still be nervous about being part of a crowd as restrictions are eased.
SHIRT OFF THE BACK AND 50/50 RAFFLE
This weekend you can win Tyson Fawcett's game worn Winter Classic jersey. Enter here for just £1 a ticket.
Our match night 50/50 competition operates as cash only and you can buy tickets from stewards and the Storm Support desk. 
STORM SPORTS
Storm Sports Store will be open an hour before the game and during intermissions. This week Storm Sports have bobble hats up for grabs. 
Can't make the game? See what's available via the shop's website here. 
STORM SUPPORT
You can join the Supporters Club under block 112/113 area. Here you can purchase Storm merchandise, 50/50 tickets and your pucks for the chuck a puck competition. Chuck a puck is held during the second intermission.
Follow Storm Support on Facebook @McrStormSupport or Twitter via @Mcr_StormSuprt.
If you've never visited the 'Storm Shelter' before and want to know how to find us, please visit the Planet Ice, Altrincham website HERE – see 'find us' section.
– Doors open 6PM
– Face-off is 7PM
– Tickets from £9 
– Family tickets available 
– Train & tram links adjacent to venue
– Car parking available (Free after 6PM) 
#WeAreStorm | #Manchester 
Fixture change: Our game scheduled against Dundee Stars on Friday 25th February will now take place on Sunday 20th at 18:30