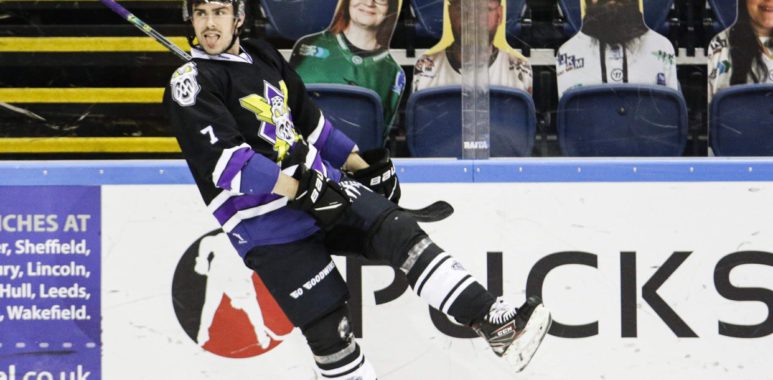 Elite series
Latest News
Match Reports
MATCH REPORT | Fortier scores hat-trick in Elite Series semi finals
First Period
It was all to play for in the first leg of the Elite Series semi finals between Storm and Steelers on Tuesday.
Back in the lineup for Storm was Klavestad and Lundell Noer, with Bonar in net against Muse for Steelers. Kirk was scratched due to an injury and Dowd placed on the starting line up.
The opening minutes saw Storm shut out any chances of an early Steelers goal.
Fortier was first on the board for Storm, when he flew around the defence deking the puck back hand through Muse's five hole, assisted by Long and Simmonds at 08:04.
Critchlow seized further opportunity with a hard shot to the net in the final minutes, but a gap in the defensive zone moments later saw Steelers bring the game level, when Jones scored at 18:49, assisted by D Phillips.
Second Period
Just as Ehrhardt was out the penalty box, Connolly shot the puck through traffic from the blue line. Eberle claimed the goal, tipping it in at 21:40.
Fortier claimed his second goal of the game and drew the Storm level on a skilled breakaway at 25:57.
Olden regained the lead for Steelers, beating the defence and sending the puck home on a pass from Mikyska at 32:22.
Steelers' fourth goal followed at 36:21, when Beaudry collected Bonar's rebound, originally saved on a shot from Hewitt.
Fortier was on fire for the storm and closed the scoreline once more, scoring a hat-trick via a top shelf wrist shot at 38:17, assisted by Long.
Third Period
A concidental penalty to both sides was given to Connelly for slashing and Long for cross checking at 48:19. Dowd and Eberle skated up along the boards, Eberle claiming his second goal of the game, assisted by Dowd at 49:19. (4on4)
Making no mistakes, Lundell Noer lifted the puck back hand over Muse by the crease, closing the gap once more for Storm moments later at 50:40.
Dowd was handed a tripping penalty at 52:29. Despite pressure from the Storm, in the offensive zone, they were unable to equalise.
A delayed penalty against Storm in final minutes of play handed Fawcett for slashing saw Steelers looking to capitalise, but the final score of the first leg remained 4-5 to Steelers.
Manchester and Sheffield meet once more for the second leg of the Elite Series semi finals on Thursday at 19:00. Buy the webcast HERE! Face-off is Thursday 27th April at 19:00.