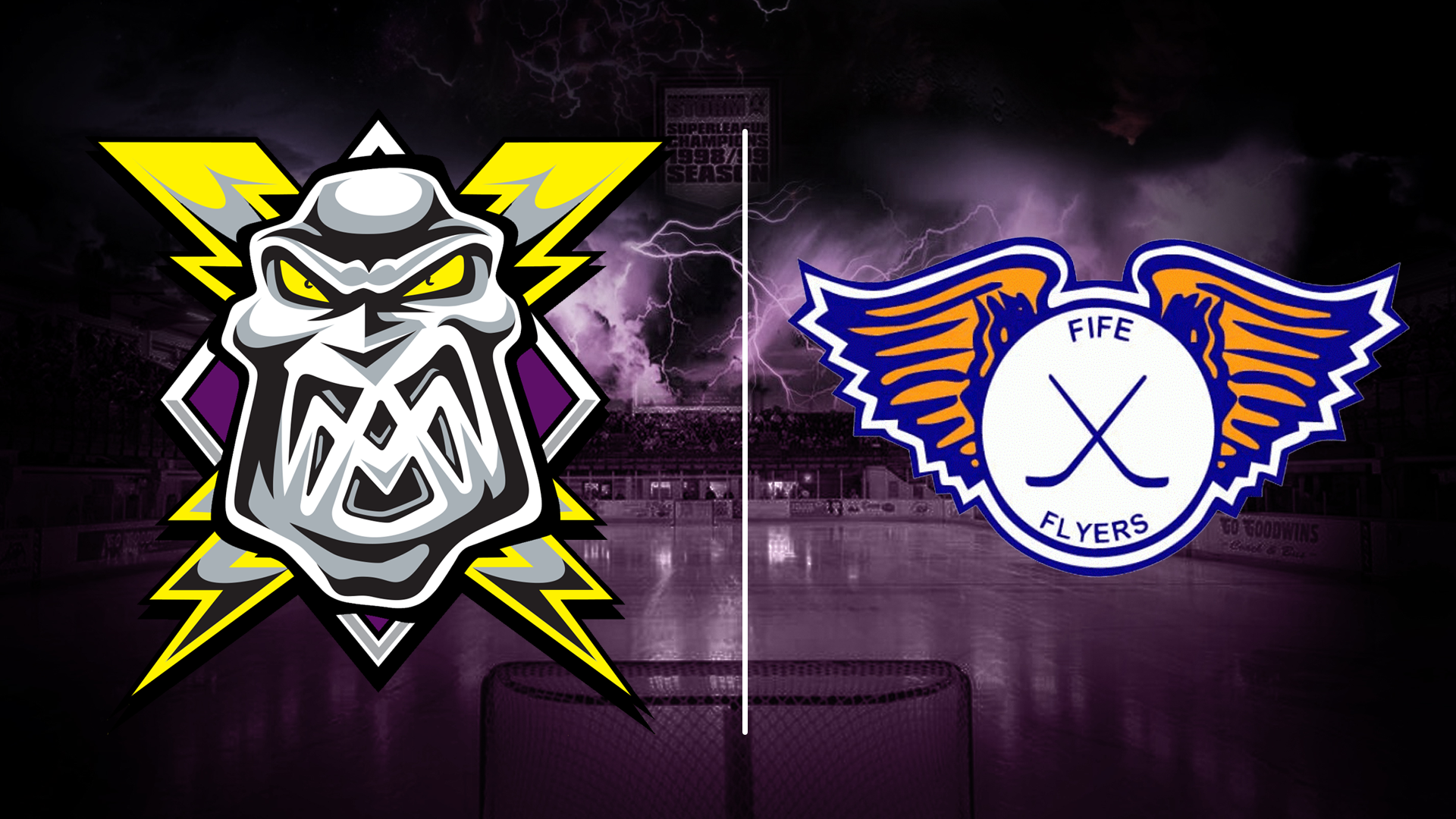 Latest News
Match Previews
Match Preview: Storm vs Fife Flyers
TICKETS: Your Go Goodwin's Manchester Storm are back in home action on Saturday 17th Dec, when we take on the Fife Flyers (7pm) here at the Storm Shelter! Tickets for both games can be ordered online or by calling the box office on 0161 926 8782, or in person at the box office.
The Fife Flyers are the next visitors to the Storm Shelter as they take on the Go Goodwins sponsored Manchester Storm this Saturday 17th December, facing off at 7 pm.
The teams are no strangers this season, facing off against each other 3 times already prior to this match. In each of these games one team has failed to score, and the opposing netminder has skated away with a shutout. Shane Owen started the trend in October, saving 41 shots from the Storm in a 7-0 Fife win. Storm have since gained their revenge twice, taking a 3-0 win at home in November and a 2-0 victory a week ago in Kirkcaldy. Mike Clemente saving 27 and 33 shots in those two games, respectively. Over these 3 games Justin Fox, Ryan Dingle, and Darian Dziurzynski have all scored 2 goals.
Both teams have been in action since last weekend's matchup, Fife taking on Edinburgh in the league and Manchester taking on the Belfast Giants twice in quick succession at home. Fife went down 6-3 in Edinburgh, despite taking a 3-1 lead through Thinel, Moyer, and Finucci. The Storm's two games against the Giants started with a 2-1 loss last Sunday, Trevor Johnson getting the solitary goal. Belfast visited the Storm Shelter again on Wednesday in Challenge Cup action, this game finishing 3-3. Storm's goals came from Trevor Johnson, Mario Trabucco, and Matt Bissonnette, while Phil Spanswick stopped 31 shots in an impressive performance.
Last week's game between the two teams has left the Storm 1 point behind the Flyers in the Elite League standings. Manchester, in 7th on 19 points from 21 games are 4 points ahead of 10th placed Edinburgh and only 2 points behind 4th placed Nottingham. Fife are 1 place ahead of Storm, having secured 20 points from 20 games. A win for Storm would see them leapfrog the Flyers and continue putting pressure on the teams above, whilst a Fife win would put a bit of breathing space between the teams. Both teams are also chasing the Gardiner conference title, second placed Manchester are 6 points ahead of fourth placed Fife, however the Flyers have 5 games in hand.
ONE TO WATCH: Netminder Shane Owen has faced the highest number of shots (762), has the highest number of shutouts (3), and has the highest save percentage (92.5%) in the league. He joined the Flyers after an impressive career in the East Coast Hockey League.
MATCH DETAILS:
Doors open from 6:00pm
Face-off at 7:00pm
"Shirt Off The Back" is #2 Omar Pacha
50/50 & "Chuck A Puck" will also be running! Buy your tickets from sellers around the rink!
Tickets for the game can be bought from HERE
Webcast for the game can be found & ordered HERE
Storm will be in their BLACK home jerseys
Jacks Bar will be open post game until 11pm
There is FREE ice skating + skate hire until 11pm