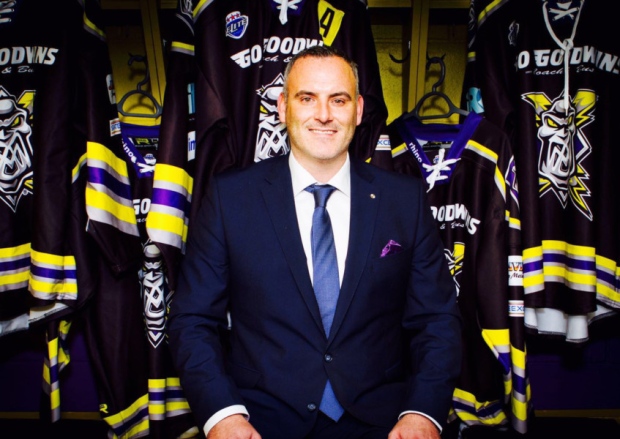 TICKETS: Your Go Goodwin's Manchester Storm are back in home action on Saturday 17th Dec, when we take on the Fife Flyers (7pm) here at the Storm Shelter! Tickets for both games can be ordered online or by calling the box office on 0161 926 8782, or in person at the box office.
Hey Storm fans,
I hope you're all well & getting ready for the upcoming Christmas games and festivities!
So, how's things been going here at the Storm Shelter I hear you ask?
Well, first & foremost, on the ice i think we've done very well given the amount of injuries that we've had the past 7-8 weeks. This team "buys in", irrespective, which is all that ownership, myself as management, Pach, Eric Neilson & Mike Morin as coaches ask of our players. We firmly believe that we can continue to push up the standings, and with Valcak & Neilson closing in on a return to the ice after lengthy lay offs, we know we will have that extra edge to achieve our aspirations. We've no definitive time scales on both guys, but we are hopeful they will be back in Storm jerseys in and around the Christmas period, but we will wait until both are 100% fit & cleared by the medical staff.
It sounds easy to say "just buy in" to players, but the togetherness & accountability we have here is formed by good leadership, and we have that in abundance this season. As a club that's what, circa 50 home games old (?), everyone is pretty much at the start of a journey to building something special here with the Storm. To achieve the goals myself and ownership have set out to achieve as a new business you need the right people alongside you to help achieve those aspirations, and right from TJ (Captain) & Eric Neilson we have that strong leadership inside the locker room who help drive the core group.
We were very grateful to have Nardo Nagtzaam with us for 5 weeks as injury cover. He is a good person who worked hard every day. We brought Nardo in on an initial 4-week contract, he stayed an extra week or so but got made a full time offer in Germany which he felt he had to take. We wish him well & thank him for coming to the Storm and for his professionalism.
A lot of people have asked me on social media etc about my views on the recent Clemente suspension that ruled him out of Wednesday night's 1st leg Challenge Cup game. All I can & will say is that it got me & the team fired up even more for the game. We knew it was going to be backs to the wall time against a very good Belfast side. We don't necessarily have the overall depth of the "big boys" even at full strength, so without Valcak, Neilson, Clemente and the departure of Nardo the previous day, we knew it was going to be a battle. I thought the guys were exceptional and if the truth be told, we probably deserved the win as opposed to the eventual 3-3 draw. Phil Spanswick stepped up to the plate superbly for us & more than proved his worth to our franchise. A very well deserved Man Of The Match award for Phil which sets us up for what should be an enthralling second leg in Belfast next Tuesday night.
So, what did everyone think of the Stormin' Christmas video?! Fair to say the reaction on social media has been superb! We had the NHL network email us this morning asking to use it, so look out for it appearing there sometime soon! I have to pay special mention to a few people who helped pull it all together. Firstly, Jon Hammond, who helped put all the words of the song together and had the vision for the numerous different scenes that you all saw on the video. Everyone knows how integral Jon is to the Storm, he cares so much about all that we do. Keith Jacobsen has been a monumental help this season with numerous special features that you all see on game nights & weekly preview shows, but he also played a huge part in filming and editing this Christmas video. A lot of people were also asking as to who it was that was singing the song, well, take a bow, Rhys Hammond! WHAT AN AMAZING VOICE!
On the commercial front, we've also secured a couple of new sponsors recently to add to our growing portfolio, one of which we will announce early next week. It's great to see our brand being recognised by companies who see the tangible benefits of investing in the Storm. Again, it's a real team effort from not just myself, but players, and indeed you the fans who can always continue to help drive the commercial front for us. As I've said many times before, in ice hockey, it is often fans who help drive sponsorships via your own businesses or those you may work for, so keep spreading the word.
We've now got a busy Christmas schedule ahead of us. Starting this Saturday with our last home game before Christmas Day vs the Fife Flyers on Saturday evening (7pm). We then have the Dundee Stars at home on Boxing Day (5.30pm) and then the old enemy, the Sheffield Steelers visit the Storm Shelter on New Years Day (5.30pm).
I always hear people say at this time of year "I don't know what to buy him/her for Christmas". Well, it's simple for me, you take the opportunity to purchase tickets for these upcoming Storm games as Christmas presents for your friends, family members, work colleagues & introduce them to the best sport on the planet & a great family night out at the Storm Shelter. We've a team to be super proud of this season, so let's really get behind them & continue to grow our fan base like we have done so since the Storm re-formed last season. You, the fans, are Storm ambassadors, you're our greatest sales people, so keep buying those tickets in support of your team and encouraging all those around you to do exactly the same. Also, never ever doubt for one second how much the players love when the Storm Shelter is loud! The atmosphere spurs them on every single shift, so to Gord & his drum core, as we say in Belfast "keep'er lit" and let's continue to make the Storm Shelter a tough place for opposing teams to come and play.
See you all at the game this Saturday vs Fife.
Regards,
Neil Russell
TICKETS: Your Go Goodwin's Manchester Storm are back in home action on Saturday 17th Dec, when we take on the Fife Flyers (7pm) here at the Storm Shelter! Tickets for both games can be ordered online or by calling the box office on 0161 926 8782, or in person at the box office.