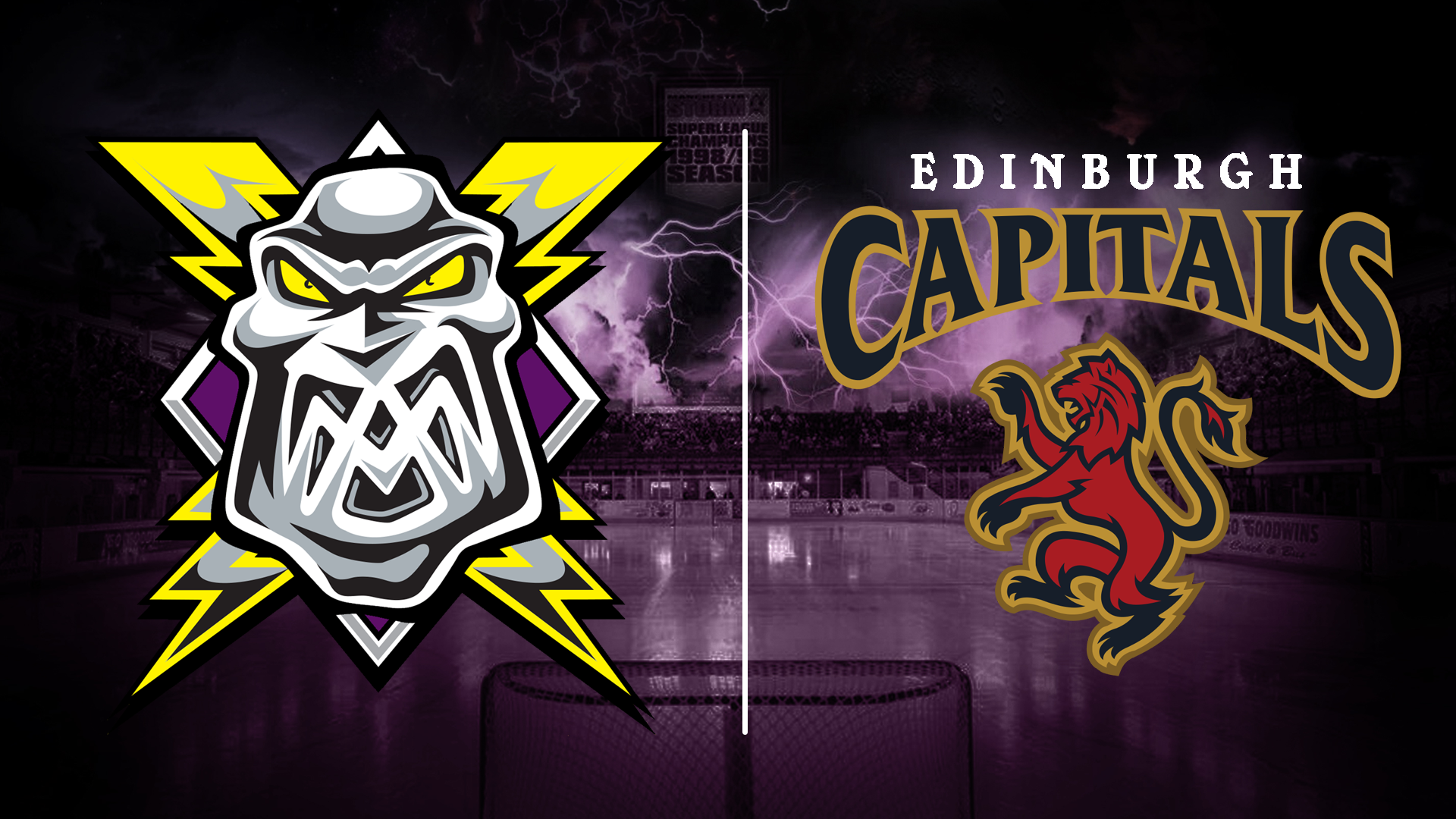 Match Preview: Storm vs Edinburgh Capitals
TICKETS: The Go Goodwin's Manchester Storm are back in action THIS Saturday 11th March when we take on the Edinburgh Capitals. Faceoff is at 7:00pm and tickets can be ordered online, by calling the box office on 0161 926 8782, or in person at the box office!
Your Go Goodwins sponsored Manchester Storm continue their playoff push as the Edinburgh Capitals enter the Storm Shelter this Saturday 11th March for a 7:00 pm faceoff.
The intensity has been ramping up recently, as the league enters the final stretch and teams look to secure silverware and playoff places. Storm have 5 games left this season, and are 1 point behind Dundee, who occupy the final playoff spot. Tenth-placed Capitals are only 5 points off the Storm, but could see their playoff hopes extinguished this weekend if results do not go their way. For the Storm, this weekend provides an opportunity to claw themselves back into the playoff spots. Should be another great game the Shelter!
Storm & Capitals key men this season: Both teams are built on solid netminding, and both Mike Clemente and Travis Fullerton have put in some stellar performances this year. In the 7 previous meetings between the sides, Clemente has stopped 206 shots and has a save percentage of 92.4%. Fullerton has stopped an impressive 225 shots, for a save percentage of 90.4%. Top points-scoring for Edinburgh this season has been Pavel Vorobyev, who has posted 15 goals and 29 assists in 44 games. 5 of those points, including 4 assists, have come against the Storm this season. Darian Dzuirzynski tops the points chart for the Storm, with 46 points from 45 games, including 26 goals, putting him joint second position in the league. His 26 goals is his highest tally in his professional career so far. The teams also rely on offense from their defencemen, with Trevor Johnson and Jacob Johnston sitting 3rd and 2nd in their respective team's scoring charts. Both captains have picked up 27 assists this season, while Trevor Johnson has added 5 goals, and Jacob Johnston has 13 goals.
Storm – Capitals results so far: Storm have the slight advantage this season, edging the series 4-3 so far. Storm have outscored the Capitals 25-19 in total, and have the special teams advantage as well, converting on 26.1% of their opportunities in the matchups, compared to Edinburgh's 6.5%. The second period has seen the most scoring this season between the sides, with 21 of the 44 goals coming during this period.
One to watch: Mason Wilgosh has top points-scored for the Capitals against the Storm this season. 4 of his 8 goals this season have come against the Storm, and he's added 5 assists taking him to 9 points in 7 games against the Storm.
MATCH DETAILS:
Doors open from 6:00 pm
Face-Off at 7:00 pm
SOTB this evening is #11 Jack Prince
50/50 & "Chuck A Puck" will also be running! Buy your tickets from sellers around the rink!
Tickets for the game can be bought from HERE
Webcast for the game can be found & ordered HERE
Storm will be in our BLACK home jerseys
Jacks Bar will be open post game until 11 pm!
There will be FREE ice skating & skate hire post game until 11 pm WITH a purchased match ticket!