Manchester Storm Introduce new fan backed support group, 'Storm Support' ahead of new Elite League season
Manchester Storm are thrilled to announce the launch of exciting new fan backed group, 'Storm Support'.
Manchester Storm Support will replace the 'Official Supporters Club' and come under new management, with life-long Storm supporter, Ric Thorpe at the helm.
Storm Support will be split into three sectors;
Storm Support: Fans – The fans who support the club, specifically the players in a variety of different ways across the course of the season. An example of this can be something as simple as helping a player bring their pet over to the UK for the duration of the season (Yes, this is actually happening right now!) or an example from previous seasons, when the supporters club helped Mike Hammond return to North America after the sad news of the passing of Mikes father, Peter.
Storm Support will even contribute towards the clubs away travel costs to ease the burden during a busy Elite League schedule.
Storm Support: Community – Storm Support will be heavily involved in the community out-reach of the club. The community out-reach is something the club targeted to improve and with the backing of Storm Support this is something we're extremely excited about. Keep an eye out for activities in the community involving Storm Support over the coming months as we begin to spread the Manchester Storm name! Storm Support will also be involved with Charity events run by the club.
Storm Support: Kids Club – The message from Storm Support Kids is simple; to ensure the next generation of fans get as much enjoyment from supporting Manchester Storm as possible. There will be special Kids events over the course of the season so that they can meet their favourite player whilst enjoying some activities specifically aimed at the younger fans. Storm Support Kids Club will also be looking at strengthening the bond between Manchester Storm and the Manchester Storm Academy, by organising very special events for the up-coming season, stay tuned!
Chairman of Storm Support Ric Thorpe, had this to say;

"First and foremost, I'd like to place on record thanks to our predecessors, Nick Barlow and the OSC! Their tireless efforts have really set the bar high in what fans want from a supporters club and I'm excited to make sure we live up to these expectations!
I was thrilled (and slightly nervous!) when the club asked me to take on this role! Helping this club grow is my number one priority and I can't wait to get started!
The new name – "Storm Support" is exactly what we are. We are here to support the club and support you as fans in getting as much out of the club as possible. In a post pandemic world, our club, with every other sports club and organisation, needs support now more than ever. Our goal is to offer fans as many different ways as possible to help raise those vital funds that ensure we have the best on ice product as possible.
I am also looking for fans who want to get involved and be part of the Storm Support team. We have a variety of roles available and if you think you can bring something to the team, send an email in to StormSupport@storm-office.com detailing any skills you have that could be useful and a short paragraph of why you want to get involved!"
STORM SUPPORT MEMBERSHIP
We've Frozen the 2019-2020 OSC prices and added a specially discounted membership for Season Ticket holders!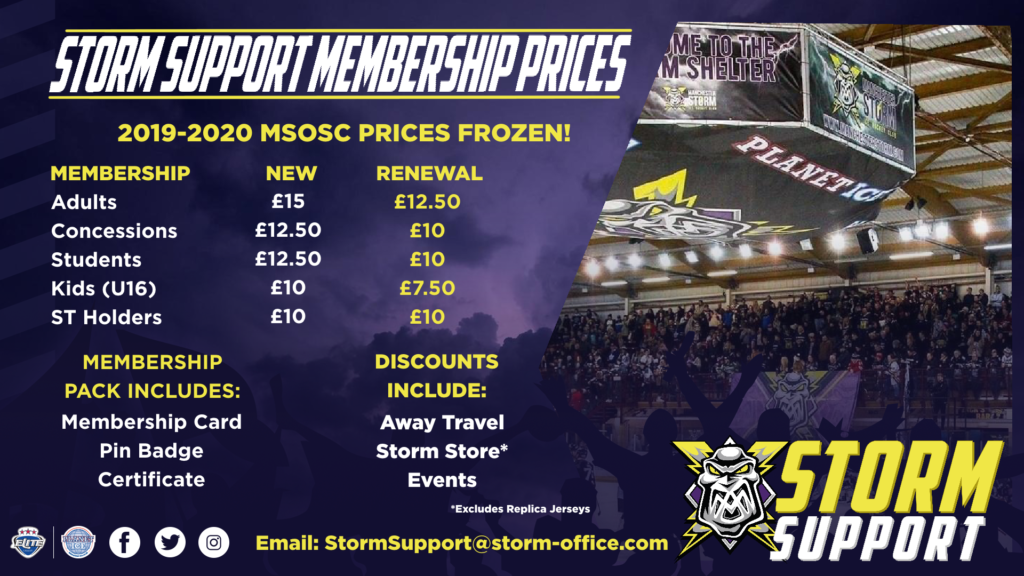 MEET THE PLAYERS
Storm Supports first order of business is one of the highlights of the season, the Meet The Players event!
Meet The Players will be held at the Cresta Court, Altrincham on Friday 17th September 18:00-21:00 and Jon Hammond will be returning as the very special guest compere!
Tickets will be priced at £5 for Storm Support members and £10 for Non-members. This is sure to be another special event on the calendar as we meet the 2021/22 season squad up close and personal for the first time!

We will be set-up on the night to take payment for 'Storm Support' membership for the 2021/22 Elite League season, more information on this coming very soon.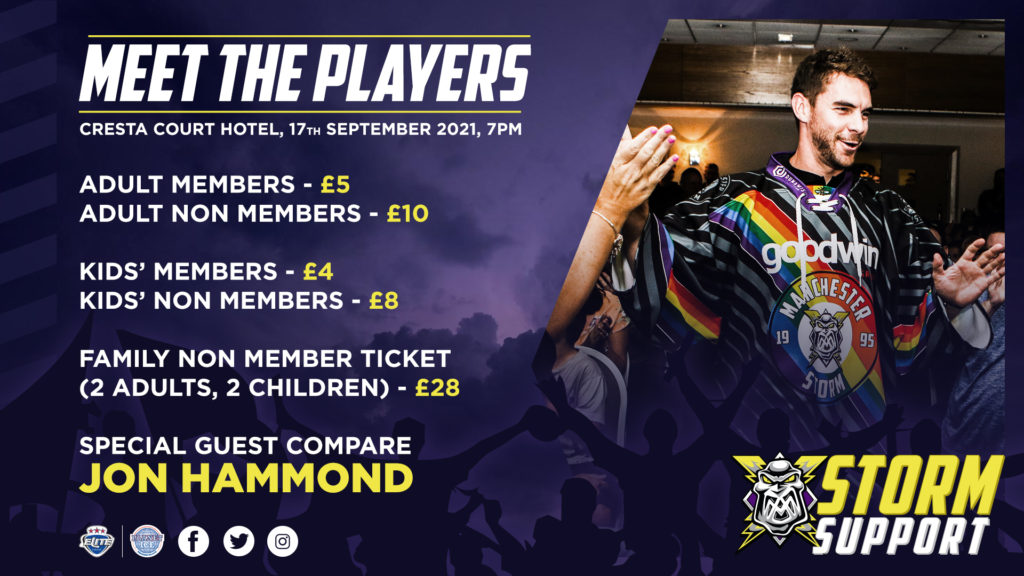 AWAY TRAVEL
Storm Support are keen to rejuvenate the clubs away support and once again have a reputation for having strong travelling support through-out the Elite League season! From the feedback we received from the Fan Survey, it was made clear that much more time was needed to be given for our fans in order for them to plan away trips, this is why Storm Support are giving you the list of all away fixtures, before the season has begun, in which we will run a coach! Storm Support and the club would like to thank Go Goodwins for their help in organising this.
Sunday 26th September | Guildford Flames

Sunday 24th October | Cardiff Devils
Sunday 7th November | Nottingham Panthers
Saturday 27th November | Dundee Stars
Sunday 19th December | Nottingham Panthers

Sunday 2nd January | Sheffield Steelers
Saturday 12th February | Sheffield Steelers
Saturday 26th February | Cardiff Devils
Saturday 5th March | Nottingham Panthers
Sunday 27th March | Sheffield Steelers
Saturday 2nd April | Coventry Blaze
Saturday 9th April | Glasgow Clan
Prices for members and non-members TBA shortly.

The club would like to thank Ric for all his hard work so far and we hope to see many new members of 'Storm Support' ahead of the up-coming season!
#WeAreStorm | #Manchester