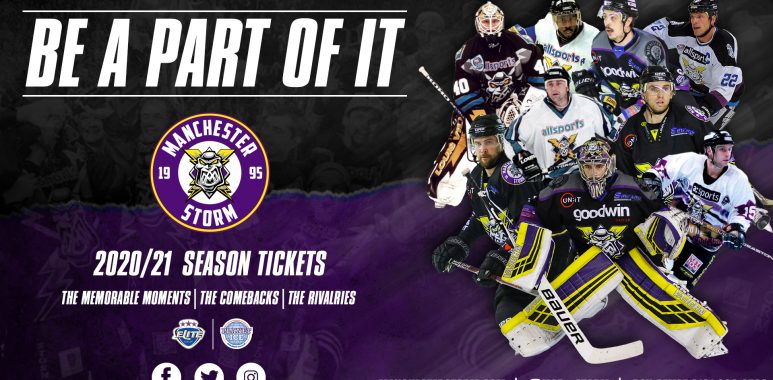 Manchester Storm extend Early Bird Season Ticket Deadline!
With the provisional date for the start of the Elite League season being the weekend of October 3/4, we are pleased to announce we are extending the #EarlyBird discount for Season Tickets until Tuesday 30th June 2020!
If you're a current season ticket holder looking to renew your seat, we will also be holding all ST seats until the new date of Sunday 31st May 2020!
Jamie Tunstall, Managing Director of Manchester Storm commented:
"We think it's important to look after our existing season ticket holders and make sure they have the best opportunity to renew their seat.
"With the current climate and financial situation, it was only fitting we also extended the early bird offer. On behalf of the Manchester Storm organisation i'd like to thank each and every one of you for your continued support."
The theme for this seasons launch is "Be Part Of It". We want YOU to be part of every memorable moment, every win, every goal and every celebration during the 20/21 season at the Storm Shelter.
On our 2020/21 Season Ticket artwork, you may recognise some old faces, as this is the 25th year since Manchester Storm were originally founded. We wanted to tip our hats to the history of the club, whilst moving forward and creating our own history together.
All EIHL regular season games will be included and as a bonus there will be three out of the four Challenge Cup games also included. This Means 30 action packed games at the Storm Shelter and the early bird price will now run until the end of June 2020! Also, first and/or full payments will be taken at a date decided shortly, we'll be bringing you news on this as soon as we have it.
To apply for 2020/21 season tickets, download the application form here; Application Form  and fill it in. You can save and send them back via email to seasontickets@storm-office.com.
Our 2020/21 Season Ticket application form, terms & conditions and the payment options are all available to download below!
Early Bird Prices;
Adults @ £465
Concessions @ £315
Children @ £215
Full Prices;
Adults @ £510
Concessions @ £360
Children @ £240
If you have any questions or would like help during the application process, please do not hesitate to get in touch at seasontickets@storm-office.com
#WeAreStorm | #BePartOfIt