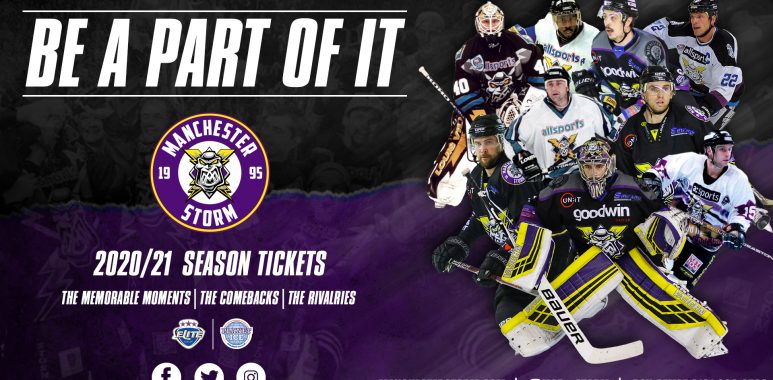 Manchester Storm 20/21 Season Ticket Update: May 2020!
As mentioned in our previous press release, the provisional start date for the 20/21 Elite League season is the start of October, but with many Manchester Storm fans still very much being affected by the Covid-19 pandemic, we feel it is necessary to announce that any Season Ticket payments will be delayed until Wednesday July 1st 2020 at the earliest. We will continue to monitor the situation and delay payment further if necessary.
We are also pleased to announce the new date for Season Ticket renewals! We are giving all 'current' Season Ticket holders until Tuesday 30th June 2020 to enter your applications to reserve your seat for the upcoming Elite League season, or even if you'd like to change seats, just let us know on the application! Don't forget, you can take advantage of our #EarlyBird discount right up until this date and as mentioned, you won't have to pay a penny until July 1st 2020 at the earliest.
With the news from the UK government that non-essential shops can begin re-opening from Monday 15th June 2020 as part of plans to further ease the lockdown, we'll hopefully have more updates for you shortly!
To apply for 2020/21 season tickets, download the application form here; Application Form  and fill it in. You can save and send them back via email to seasontickets@storm-office.com.
Our 2020/21 Season Ticket application form, terms & conditions and the payment options are all available to download below!
Early Bird Prices;
Adults @ £465
Concessions @ £315
Children @ £215
Full Prices;
Adults @ £510
Concessions @ £360
Children @ £240
If you have any questions or would like help during the application process, please do not hesitate to get in touch at seasontickets@storm-office.com
The Manchester Storm organisation would like to thank everyone for the continued support, whether that be through Season Ticket renewals or purchasing tickets to our online jersey raffles or buying from our online Storm Sports Store, which is all key as we make our way through this tough time caused by the Covid-19 pandemic. We can't wait to see you all back at the 'Storm Shelter' once it's safe to do so!