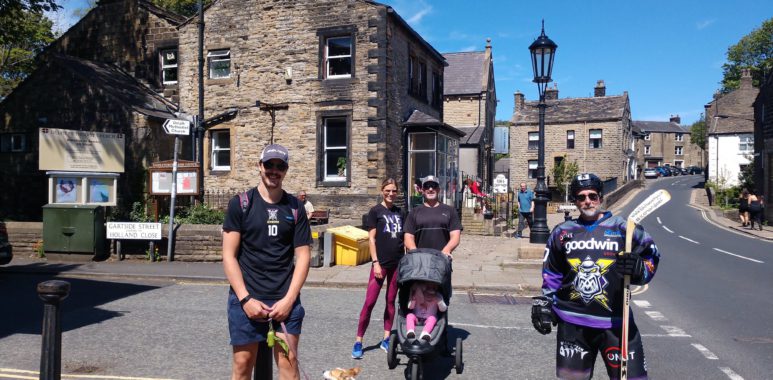 Community News: Storm Steward Dave Fairbrother Takes On Tough Charity Walk Challenge
A member of the Storm family, Dave Fairbrother has been keeping himself extremely busy (and fit) during the lockdown whilst raising money for charity. He has walked for 36 days and racked up over 200 miles in the process, whilst donning various hockey uniforms.
Head Coach, Ryan Finnerty, who recently completed a walk with Dave had this to say about his efforts:
" I am very proud that one of our stewards has put together something like this…it is a great accomplishment and something Dave should be extremely proud of. I know his work has been supported by a number of donations to Patch Amnesty, all of which are deserved for such a great cause."
For those who don't know you, can you tell us a little bit about yourself?

I am 51, a hockey fan and steward at the Manchester Storm. I am fortunate enough to have an amazing family around me…my girlfriend, daughters and grandsons mean the world to me.

In my younger days I work as a 'roadie' for AC/DC; Metallica; Kiss and pretty much all the big bands that would take me. As a result, my love for rock and metal music grew and grew during this period of my life.

Last year I was fortunate enough to win a body transformation competition when I was twenty stone, since then I have lost 9 stone in under a year.  
How has everyone been keeping during the lockdown?

I actually spent the first 3-weeks of lockdown in Australia and have since returned home, on arrival I found I had been furloughed like lots of people have been. In truth, it has been difficult not seeing my family and friends, particularly my daughters and grandsons. Although, with technology today we have been able to catch-up and even done a couple of zoom quizzes.
What are the reasons behind your walks?
The main reason for my walks has been to overcome my own struggles with mental illness, as these came to the fore when my marriage broke down. The people I have around me today have helped me reach a much happier place and I wanted to spread this positivity through my walks, as well as raising more awareness for mental health and the donations help support this.  
Do you have any advice for those that are perhaps struggling to stay motivated during this lockdown?
I would say keep your body and mind busy, I know that has helped me. If you want to try a new hobby, now is the time. The jobs around the house that you have been putting off could be done by the weekend.

Another thing I would suggest is picking up the phone, ringing someone that you haven't in a while to reconnect or just to check-up on them helps. I know a lot of people that would appreciate that gesture.

Do you plan on doing anything similar to this in the future?

I've got something the pipework for late July, so watch this space!
What are the ways people can support your walking challenge?
If you want to visit www.patchamnesty.co.uk to find out more you can. They are also present on all forms of social media.

If you want to follow my progress my Twitter is: @walkformind1 and Instagram is: bigdavef