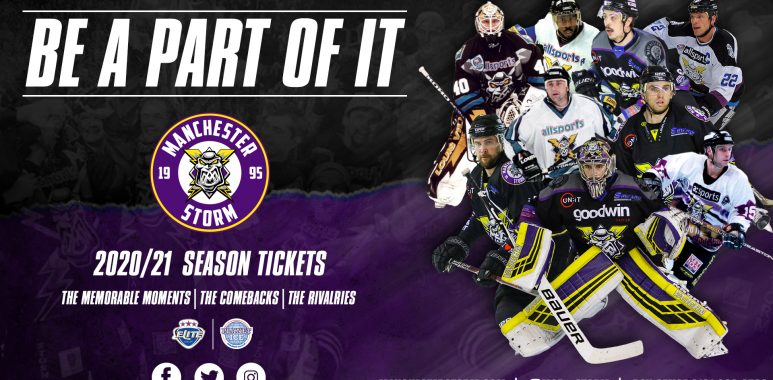 Manchester Storm Launch Fans 'Design-A-Jersey' Competition!
Your Goodwin Group Manchester Storm are pleased to announce our very special 'Design a jersey' competition!
Love Storm? See yourself as a budding designer? Then this is the competition for you!
The rules are simple…it must be a 'dark' jersey (home) as the winning jersey will be manufactured by Dunamis Sports and be worn at home in a minimum of FIVE Elite League fixtures! The jersey must also include the logo of our title sponsor, 'Goodwin Group' which is on our official jersey template (below). You'll also need to name your jersey.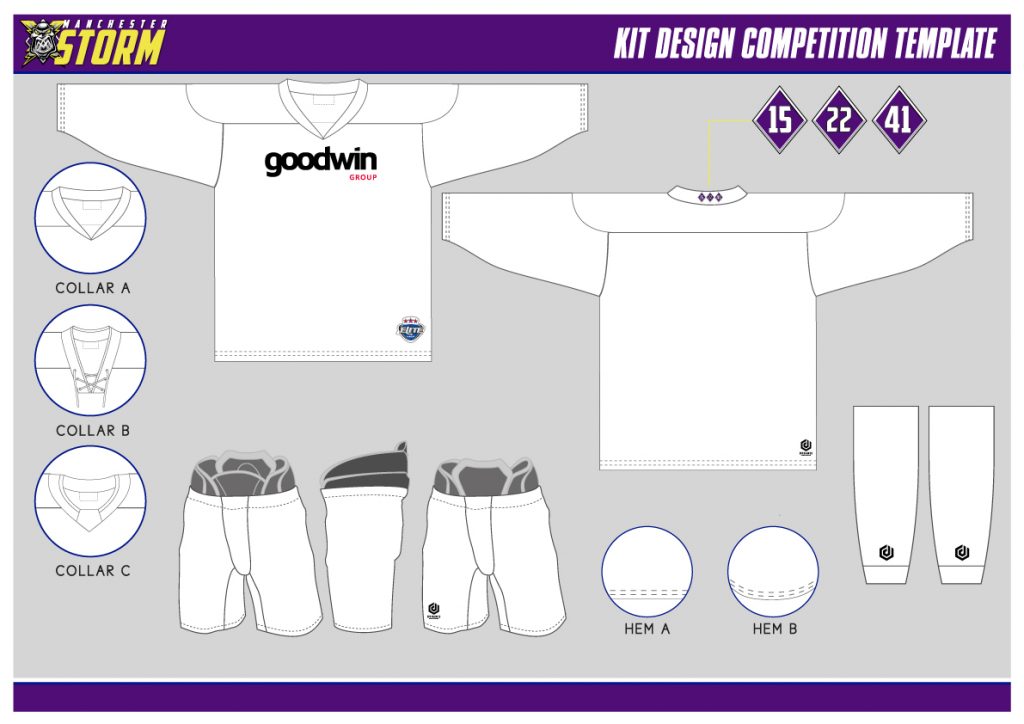 Once you've designed your jersey, feel free to share them on your social media channels and be sure to use the hashtag #DesignPartOfIt. To officially submit your entries, please email liam@storm-office.com – All entries must be submitted by end of play Thursday 30th April.
The Manchester Storm staff along with in-house designer Andew Duxbury will then narrow the choices down to just 16 designs. The 16 designs will then go 'Head to Head' in the round of 16 and voting will be open to the public. After this we will have quarter final fixtures, semi-finals and then of course, the grand final with the top 2 designs going head to head to crown our off-season jersey design champion!
Designer, Andrew Duxbury of 'Andrew Duxbury Design' had this to say; "Find inspiration. It doesn't have to be hockey related, sometimes the best work can come from thinking outside the box. Do your homework. I always enjoy looking into the history of who I'm designing for. This gives me a better understanding of the project. Finally have fun with your designs. You'll find your creativeness will flow better when you're enjoying it."
Head of Sponsorship & Marketing, Liam Hesketh also commented; "After the success of the design competition ran by our official supporters club and seeing some of the amazing designs from our fans, we decided we wanted to do something special and wear a fan designed jersey for a minimum of 5 games during our 20/21 Elite League season! As we continue to push our season ticket campaign in which we're asking fans to be "Part Of It", well now you can design a part of it! Good luck!"
The Rules:
It must be a 'dark' jersey to be worn on home ice.
It must include the Goodwin Group logo as seen on template. 
Name your jersey!
Entry must be sent in by end of play Thursday 30th April
Enjoy the competition and we can't wait to see all of your fantastic designs on social media! Good luck!
#WeAreStorm | #BePartOfIt | #Manchester | #DesignPartOfIt