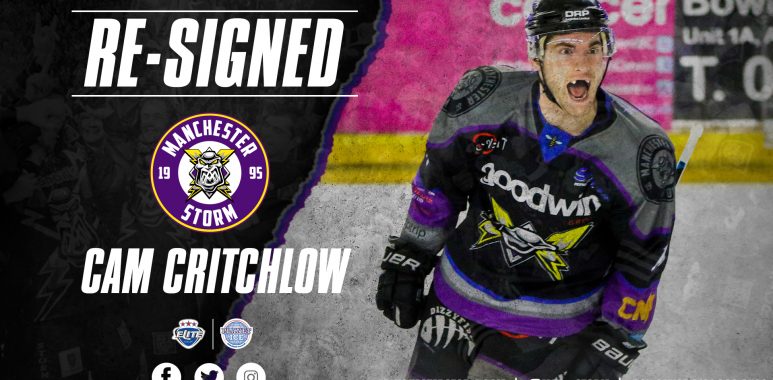 MANCHESTER STORM ANNOUNCE SECOND SIGNING OF 20/21 ELITE LEAGUE CAMPAIGN!
Canadian forward, Cameron Critchlow is the latest signee to be returning to the Goodwin Group sponsored, Manchester Storm!
Signed for the 2020/21 season, the 28-year old joins the Storm for his second season with the club!
Critchlow joined the Storm in Summer 2019 following two seasons with ECHL team Jacksonville IceMen. During his first season with the Storm, the forward claimed 35 points in 56 games played, including nine goals. Critchlow proved himself a worthy player when on the Storm went on the penalty kill, also impressing when he claimed his league debut goal in the opening game of the official EIHL 2019/20 season against visitors, Dundee Stars.
Despite the season coming to an abrupt end, Critchlow is looking to be fighting fit and is keen to make his return to the roster. Critchlow brings leadership experience to the squad, having previously spent time icing as captain at junior team, Lewiston MAINEiacs for two seasons and Halifax Mooseheads in 2011/12. Moving on from junior hockey, Critchlow captained for three seasons whilst studying at the University of New Brunswick, helping his team win the University Cup three consecutive times.
Ryan Finnerty was keen to re-sign Critchlow, commenting:
"We are excited to have Critch back again this season. He's a leader and one of the best 2-way centers in the league. He's very popular in our room and a great asset for our club. He will be completing his final year of his MBA at the University of Salford and we once again thank the university for their support."
Critchlow added:
"I'm Really looking forward to playing in front of our incredible fans for another season at the Storm Shelter. We're looking to bring a trophy to Manchester next year and we need your amazing support once again!"
PLAYER PROFILE
Position: Forward (LW)
Age: 28
Shoots: Left
Weight: 172lbs
Height: 5'9"