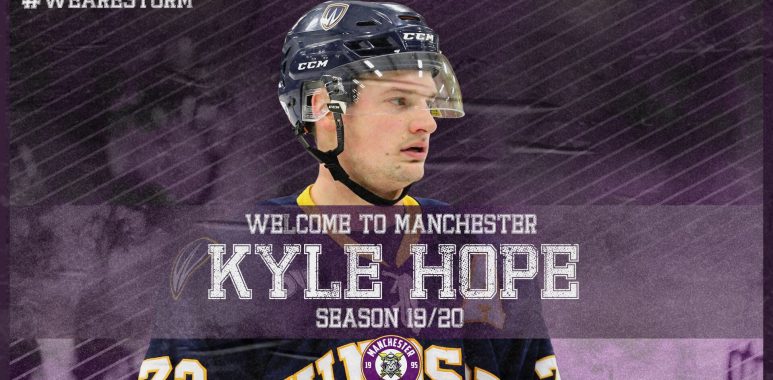 Breaking News: Welcome to Manchester, Kyle Hope!
SEASON TICKETS: Don't miss a moment of the action, save money on all #EIHL league games at the #StormShelter when you purchase before midnight on Sunday 30th June 2019! Tickets can be ordered online, by emailing seasontickets@storm-office.com, or in person at the Storm Sports store.
Your Go Goodwins Manchester Storm are thrilled to announce the signing of Kyle Hope for the 2019/20 season.
New to the club, Hope joins the Storm from ECHL team, Fort Wayne Komets.
The Canadian forward had drawn plenty of admiration from other sides in the EIHL, but the Storm managed to win the battle for his signature, ahead of the 2019/20 season.
Hope had an impressive junior career, representing Oshawa Generals and Owen Sound Attack in the prestigious OHL. The forward made 268 OHL appearances, in which he amassed 124 points (44G 80A) and 433 PIM's.
In 2014, Hope swapped junior hockey for college sports when he signed for the University of Windsor (the southernmost in Canada). The talented forward would spend five years in Windsor, during this time Hope made 130 appearances and produced 76 points (25G 51A).
Upon the conclusion of his academic years, Hope signed for Fort Wayne Komets in the ECHL. This would be the start of his professional career and in 20 matches the young forward accumulated 13 points (4G 9A).
The Storm Head Coach, Ryan Finnerty, had this to say about the new signing:
"Kyle has been on our radar for a while now…we had to work really hard to get him in the end, but that can only be a good thing. He is a big body; he plays the game hard and has good skill on the puck.
"I think he is suited to the professional game and he knows what we expect of him. He's really excited to arrive in Manchester and get things going with the Storm!"
Player Profile:
Position: Forward (LW)
Age: 26
Height: 6ft1
Weight: 84kg
See Hope's Elite Prospects info here.
We are delighted to announce that Kyle Hope's new sponsor for the season is Macclesfield based gaming store and cafe, Rebel Base Gaming. Don't forget to show your support and follow them on social media.
Find more about this fantastic company here:
The Manchester Storm OSC are delighted to announce the launch for 2019/20 Own and Loan. You can find out more information here. Keep your eye on the OSC social media for more future announcements.