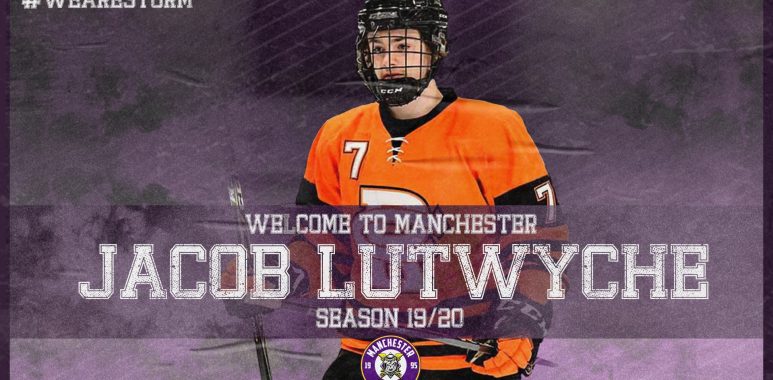 Welcome to Manchester, Jacob Lutwyche!
SEASON TICKETS: Don't miss a moment of the action. Season tickets can be ordered online here, by emailing seasontickets@storm-office.com, or in person at the Storm Sports store.
Jacob Lutwyche is the latest signing to be announced for Manchester Storm, ahead of the 2019/20 season!
A newcomer to the EIHL, the British forward joins the club following two years studying and playing in Canada. 
Lutwyche grew up playing hockey in Bradford, icing for the Bulldogs U5,16 and 18 teams. The 2015/16 season was stand out for the forward, when he was handed the role of Captain for the u15's. There, he totalled 86 points in just 18 games, including 47 goals. 
The 18-year old  spent the last two seasons playing for Ridley College in Ontario, icing between the CISAA and MPHL. Whilst there, Lutwyche gained oversees experience, icing 60 games overall. During the two seasons, he also made it as an MPHL Champion. 
2016/17 was a notable season for the youngster, when he was awarded U18 England North's most points and most goals. The 2016/17 season was split between Bradford Bulldogs U18 and Deeside Dragons U20 teams. Across 30 games, Lutwyche amounted an impressive 92 points. 
Head Coach Ryan Finnerty, is pleased to have signed the young Brit, commenting: 
"Jacob is another kid we have been speaking to for a while. We feel that he's got great potential and completes our British back nicely.   
"He's a kid looking to make his mark in the EIHL and we are more than happy to have him."
Lutwyche added,
"Having developed through the Club (Bradford Bulldogs), England and GB structures, and then on to playing in Canada for two seasons, I'm absolutely delighted to be signing up for the Storm for the new season!
"It will be a great challenge and I hope I can do the team and our supporters proud!"
Player Profile 
Position: Forward
Age: 18
Shoots: Left
Height: 5'11"
Weight: 172lbs
If any businesses or individuals would be keen to learn about a fantastic "full player sponsorship" for Jacob Lutwyche, please email liam@storm-office.com for more information.
The Manchester Storm OSC are delighted to announce the launch for 2019/20 Own and Loan. You can find out more information here. Keep your eye on the OSC social media for more future announcements
Words by Shelly Kiely