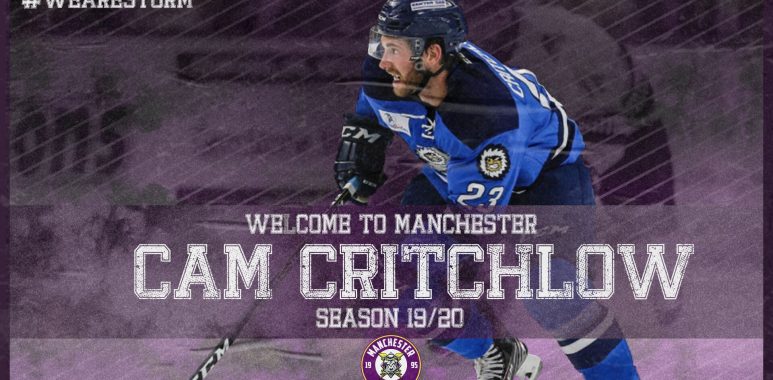 Breaking News: Welcome to Manchester, Cameron Critchlow!
Canadian forward, Cameron Critchlow is the latest signee to be announced for Manchester Storm!
Signed for the 2019/20 season, the 27-year old joins the Storm for his first ever season with the club, and his EIHL debut. Critchlow joins the Storm following two seasons with ECHL team Jacksonville IceMen, claiming 59 points across both seasons, including 36 assists. 
Hailing from New Brunswick, the forward spent his youth playing for Notre Dame Hounds and Argos (AAA). Critchlow then went on to spend three seasons with Acadie-Bathurst Titan (QMJHL), where he first gained experience as an Alternative Captain. It was the 07/08 season where he would also land a spot on the Canada Atlantic u17s squad.
The left-handed forward swapped Titan for Lewiston MAINEiacs during 09/10, and was announced as captain by his second season with the club. Prior to university, Critchlow spent a season as Captain of Nova Scotia team, Halifax Mooseheads, picking up 50 points in 68 games. 
Critchlow went on to study at the University of Brunswick, captaining the team for three of his five seasons. Whilst there, he was instrumental in the team winning the University Cup three times. 
Following graduation,  the left-handed forward also spent the 2016/17 season in Australia, as Alternate Captain for Adelaide Adrenaline. 
Ryan Finnerty was keen to sign the Canadian forward, commenting; 
"Cam's a great addition to our club. He's been a leader everywhere he's played.  He competes hard and can play up and down our lineup.  
"We are excited to have him in Manchester and I'm sure our fans will be excited to watch him play."
An experienced player, keep your eye on Critchlow, as he looks to impress during his debut season with Manchester Storm. 
Player Profile
Position: Forward (LW)
Age: 27
Shoots: Left 
Weight: 172lbs
Height: 5'9" 
Critchlow will be proudly sponsored by the University of Salford this year, and will be studying for his MBA whilst at the club. 
The Manchester Storm OSC are delighted to announce the launch for 2019/20 Own and Loan. You can find out more information here. Keep your eye on the OSC social media for more future announcements.
Words by Shelly kiely