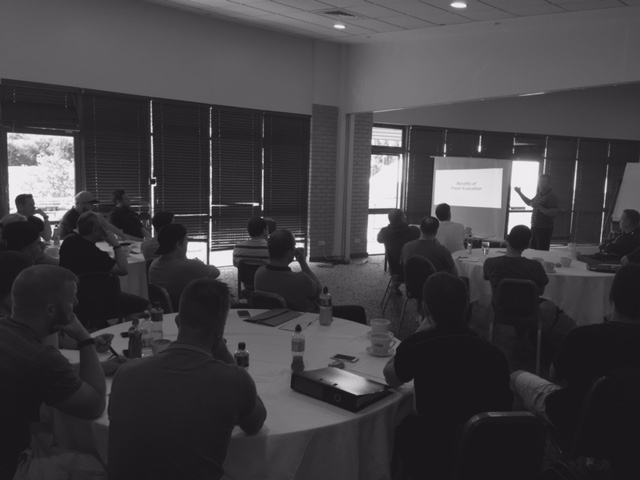 Inaugural Planet Ice & Silverblades coaching workshop held
PRE-SEASON TICKETS: The Go Goodwins Manchester Storm are gearing up for the 2016/17 Elite Ice Hockey League season with two home games against the Coventry Blaze on Wed 31st August and the Sheffield Steelers on Sat 3rd September. Tickets can be ordered online or by calling the box office on 0161 926 8782, or in person at the box office.
The first coaching workshop to reap the benefits of shared learning was held last weekend for ice hockey coaches from right across the Planet Ice and Silverblades group.
Teams from Milton Keynes, Blackburn, Coventry, Peterborough, Kent and Manchester travelled to take advantage of the sessions. No fewer than 25 coaches were present at the event, hosted by MK Lightning partner David Lloyd Fitness.
The sport as a whole has grown in prominence in recent years thanks to improved media coverage and supporter interest. This has led to increased competitiveness within the leagues and the aim of the day was for the coaches present to benefit from shared learning. It is hoped that as well as improving performances domestically, enhanced coaching techniques will eventually benefit players at international level representing England and Great Britain.
The day was the concept of Pete Russell, Director of Hockey for Planet Ice and Silverblades and Head Coach of the MK Lightning and Great Britain senior men's team.
Guest speakers at Sunday's workshop were Head Coach Corey Neilson from the Elite League's Nottingham Panthers, Director of Hockey Jon Kynaston of Peterborough Phantoms and Ross Green from Milton Keynes Lightning.
Pete Russell said the day had proved a huge success and he is already looking ahead to future events: "We had a great response and attendance. It was a really productive day and very well received by the coaches. Our aim is to support the coaches and filter down new approaches to help them develop – and in doing this it will help the clubs' players development.
"This session has allowed coaches right across the Planet Ice and Silverblades business to be part of an in-house learning experience with the opportunity to be exposed to some of the alternative tuition in hockey. It has allowed them to attend a quality clinic without the usual expense and help us in building a coaching support network right across the group.
"Today we shared information on coaching philosophies, player development, the importance of coach and player evaluation, age appropriate training on and off ice, and the importance of small area situation games. It was our first time doing this and it certainly hope it won't be the last."