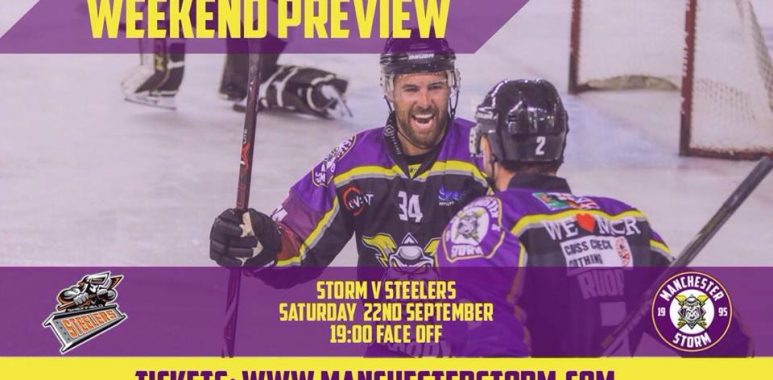 Latest News
Match Previews
WEEKEND PREVIEW: Storm and Steelers to Battle it Out in Second Challenge Cup Game
Tickets for Storm's upcoming game against Sheffield Steelers can be ordered online HERE, or by calling the box office on 0161 926 8782, or in person at the box office.
Last weekend was a mixed bag, resulting in a 3-2 victory in a thrilling penalty shootout in the Challenge Cup game away against Sheffield Steelers. However, despite coming back from a 2-0 deficit once, it was a disappointing result back home last Sunday, in a 4-2 defeat against visitors, Glasgow Clan. This weekend sees games against Sheffield Steelers and Dundee Stars.
Tonight, spectators will be able to view the #22 banner for the first time, you can read more about that here.
MANCHESTER STORM VS SHEFFIELD STEELERS – 22nd September 2018.
Steelers announced the departure of nine players the day after playoff weekend in April last season. However, head coach, Paul Thompson kept busy over Summer, acquiring some new faces. They have managed to keep the core of the British players, including Jonathan and David Phillips, Robert Dowd and Kieran Brown. Earlier yesterday, the Steelers also signed GB forward and ex-Clan player Brendan Brooks, who will be icing this weekend following the departure of the Rupert twins.
Number one netminder, Ervins Mustukovs has been replaced by dual national Jackson Whistle who previously iced with Belfast Giants.
Amongst others, newcomers include: Canadian forward, Josh Pitt, dual national forward, Evan Mcgrath and 35-year old, Aaron Johnson, who was a round three NHL draft pick by Columbus Blue Jackets in 2001, and also has AHL and DEL experience.
A win for Storm this weekend, sees them progress further with the Challenge Cup, so show all the support you can and let's pack the shelter!
One to Watch: Aaron Johnson
MANCHESTER STORM VS DUNDEE STARS – 23rd September 2018, Dundee Ice Arena.
Sunday will be Storm's first trip to Scotland this season so far, as they venture up to to Dundee Ice Arena to face the Stars. Having only played Challenge Cup games so far, it will be the Star's first home opener of the regular EIHL season, and what better game than against GM/ head coach and ex Storm, Omar Pacha.
Last season both teams finished their season tied at two wins each. With the roster Pacha has put together this season, it will be interesting to see what the outcome will be.
MATCH NIGHT INFORMATION
Doors open Saturday 22nd from 6:00pm
Stick Raffle is Dane Byers
50/50 & "Chuck A Puck" can be bought from the OSC stall, underneath block 113.
Webcast for the game can be bought here for £10
The Station Hotel, Storm's official pub, will be open to fans for pre-match drinks.
Find the information for the rinks entrance arrangements here.
Manchester Storm's next home game is against match against Milton Keynes Lightning, Saturday 29th September, 19:00 face-off, and away on 30th September against Fife Flyers, 18:30pm.
Don't forget you can still make a donation for Luke Moffatt's Charity Wing Walk event HERE, or why not secure one of the 2018/2019 Own & Loan jerseys Here.