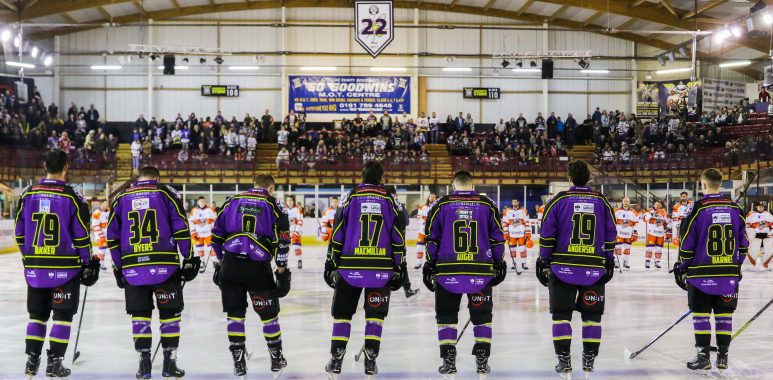 Match Report: Last Minute Disappointment for Storm in Well-fought Challenge Cup Game Against Steelers
Tickets for Storm's upcoming game against Milton Keynes Lightning  can be ordered online HERE, or by calling the box office on 0161 926 8782, or in person at the box office.
Last night, the Storm welcomed visitors, Sheffield Steelers to the Storm Shelter for their second Challenge Cup game of the season. After Linsmayer helped secure the win away for Storm last weekend in penalty shootout, there was a certain pressure to succeed again with an opportunity to progress.
It was an emotional start last night, as everyone in the shelter got together for a minutes silence prior to face-off, in remembrance to the victims who lost their lives in the Manchester Attack, May 22nd 2017.
The first period was relatively clean, and fast-paced. Both teams were on form defensively with not much getting past either end. Steelers, McGrath had a good opportunity at one point as he closed in on Ginn, who gloved any chance of first goal. The first penalty went to Steelers, as Owen was sent to the box at 8:02 for hooking. Storm took the opportunity to get first blood, but Whistle kept the puck away, denying a pretty good one timer from Moffat.
Martinelli was next in the box for Steelers, sitting a two minute minor for interference at 16:15. This gave Storm another power play opportunity, but there was no luck putting the puck past Whistle, who faced 11 shots on goal, whilst Storm's, Ginn faced nine in the first twenty minutes of play.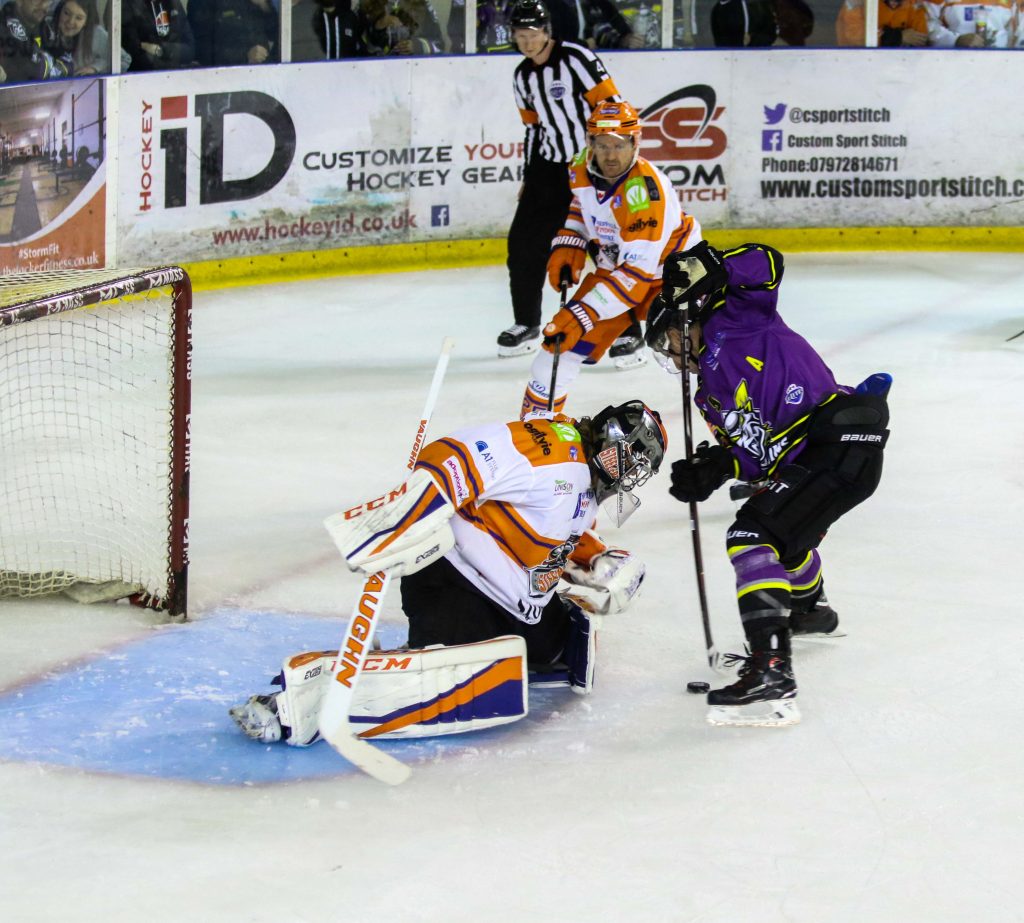 The second kicked in quickly, as Richardson has a chance of scoring first blood with an opportunity on Whistle. The first penalty of the evening for Storm went to Long at 21:39 for interference, but denied any chances to Steelers on a strong penalty kill. Two minutes into the second (22 mins of play), the Storm Shelter erupted into applause, giving recognition to emergency services and those who helped during the Manchester attack.
At 26:58, Storm ended up on the penalty kill again, as Balmer had to sit two minutes for roughing, after handbags broke loose around Storm's net. Steelers defence faltered slightly, giving Long a short-handed breakaway opportunity and Whistle keeping them in it. Steelers then received a delayed penalty in the final two minutes to Owens, for holding and Eberle at 39:44 for slashing. Overall, the second period was fast, slightly rougher than the first, but with barely any stoppages. It was a good period for Steelers newcomer Brookes, and Storms recent recruit, Anderson, who both did their best to put one past the netminders.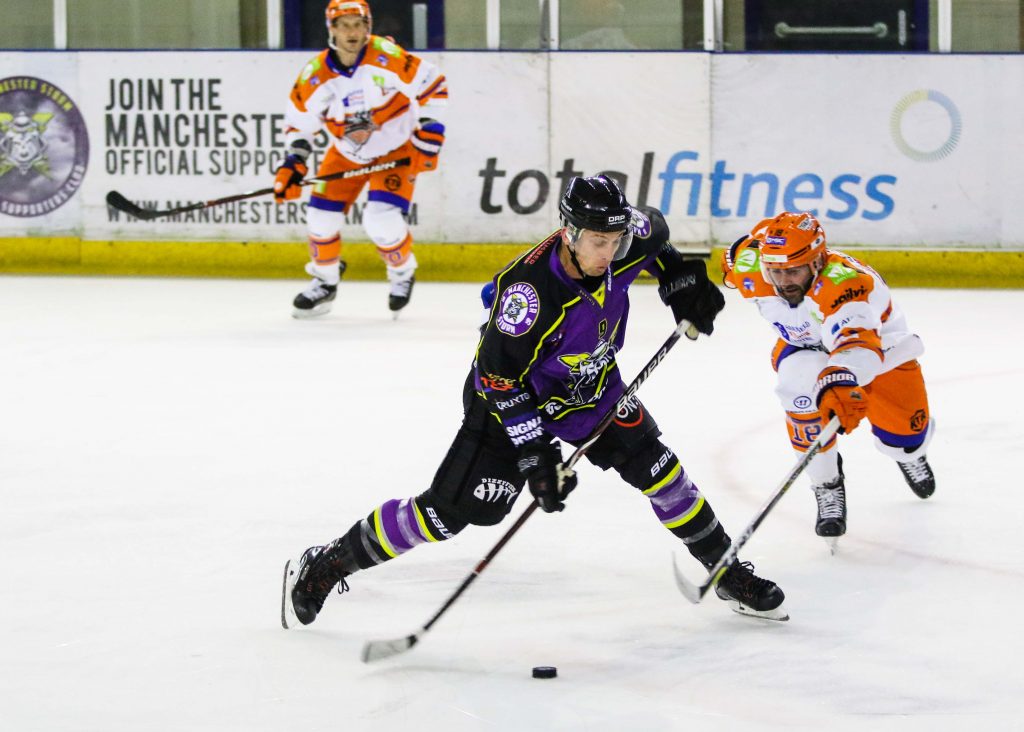 Storm took the upper-hand in the third period, in a 5 on 3 power play, but failed to convert before it went to even time.There were a few handbags a few minutes in, followed by Springer skating to the bench as he took a hit with the puck to his ankle.
The moment Storm fans were waiting for happened at 47:12, as a broken play made its way around the front of Whistles net, and Moffat slotted the puck home with the assist from Richardson and Byers. At 47:44 Long was sent to the box for slashing. It was a strong power play for the Storm boys again, as Byers and Moffat had a short handed chance to get another goal. The final ten minutes of play were the most tense and at 51:41, Storm received a penalty, with Basara received a penalty for slashing. Steelers managed to equalise on the power play, when Pitt put one past Ginn, with the assist from McFadden. This was reviewed for goalie interference, but the goal was given.
The final minute of play was disappointing for Storm, as any hopes of taking Steelers to overtime, were destroyed at 59:15, when Brooks put one past Ginn, taking the one goal victory in regular time.
All in all, It was a very even game, with Ginn for Storm receiving 32 shots on goal, and Steelers, Whistle with 31.

Man of the match for Steelers went to Jackson Whistle
Man of the match for Storm went to Shane Bakker for the second home game running.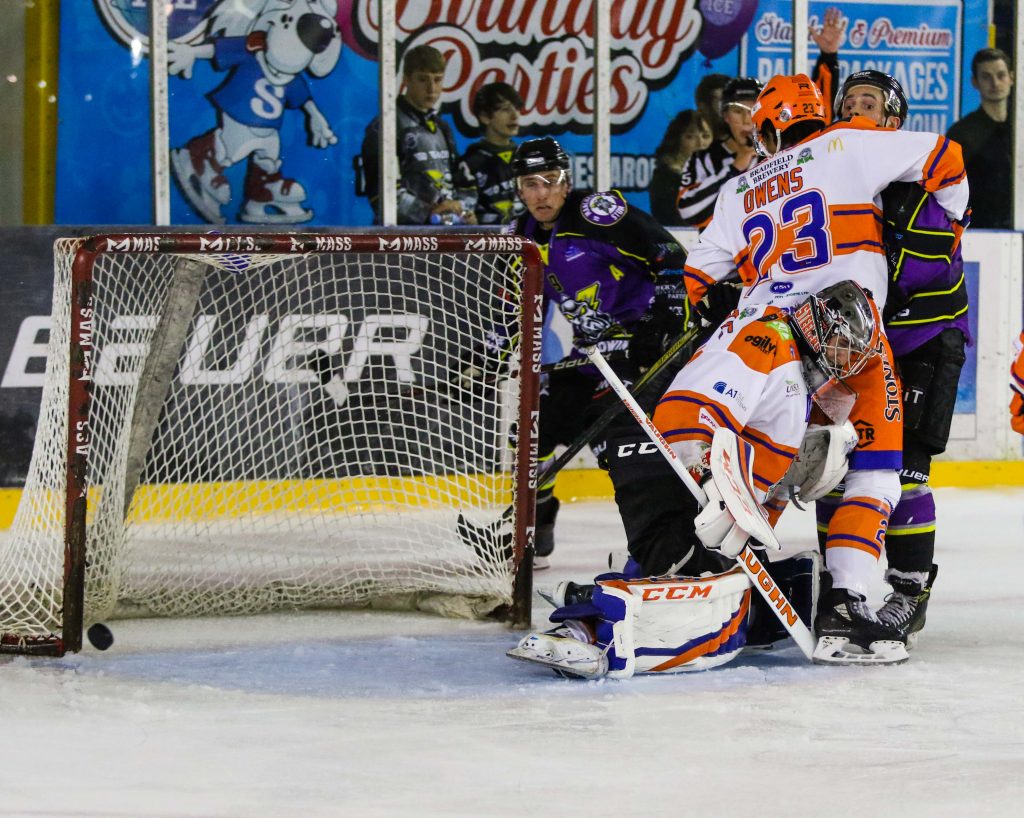 Don't forget you can still make a donation for Luke Moffatt's Charity Wing Walk event HERE, or why not secure one of the 2018/2019 Own & Loan jerseys Here.