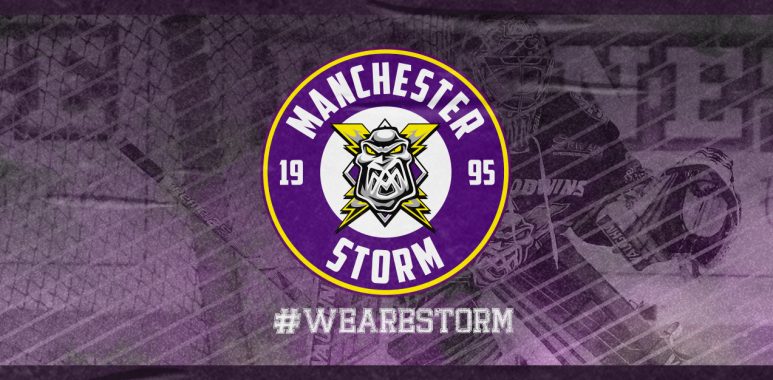 Atlantic Timber sign new sponsorship deal with Manchester Storm!
SEASON TICKETS: Don't miss a moment of the action. Season tickets can be ordered online here, by emailing seasontickets@storm-office.com, or in person at the Storm Sports store.
Local Timber and DIY merchant, Atlantic Timber, are set to return as sponsors of Manchester Storm for the 2019/20 season. 
The partnership, which is now in its second year, shows the merchant's continued commitment to supporting local enterprise, and will help to fund the team's newly designed kit for the coming season. 
Last year Atlantic Timber supplied all of the timber required to create a kit room, head coach Ryan Finnerty's office, and a space for the players to stretch and warm up before training and matches. Overall, the project was a great success and has made a huge improvement to the facility, making it one of the best rinks in the North West. 
An independent, family run business, Atlantic Timber has been trading from its premises on Atlantic Street, Altrincham, since 1981, offering high quality timber and DIY products including sheet material, doors and flooring, at extremely competitive prices. It also offers a bespoke cutting service and its team of skilled joiners and tradesmen can cut timber to any size. 
Atlantic Timber's logo will be proudly presented on the ice, boards and across all the team's jerseys this season, and we look forward to a successful partnership throughout 2019/20.
Managing Director at Atlantic Timber, Martin Buckle, commented:
 "Manchester Storm is an asset to Altrincham, regularly drawing crowds from across the UK to the town, and we are proud to be able to support such a talented group of players. 
"Its home, Planet Ice, is a hub of activity and provides families from across Trafford and South Manchester with a place to engage in sport and keep active, which we feel makes it very worthy of support. 
"I've got high hopes for the team this season, and we wish them the best of luck. We'll certainly be cheering them on from the side-lines!" 
If you need a quote or some advice you can contact the company at 0162 928 1696 or email info@atlantictimber.co.uk.
You can show your support for Atlantic Timber by following them on Social Media below. Keep an eye on their website and Manchester Storm's social media for special offers: 
If you would like to become an official Manchester Storm sponsor for the 2019/20 season, please get in touch with Liam Hesketh at Liam@storm-office.com for more information! Full player sponsorship, rink advertising, brand placement, kit sponsorship, SMO and more available now.