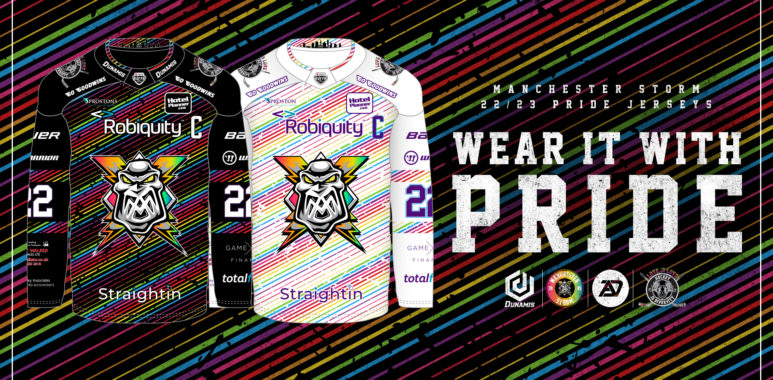 All set for third EIHL Pride Week – starts Friday!
Week 20 in the Viaplay Elite League isn't just a regular one of hockey. For the third time, we're proud to have all ten teams taking part in the EIHL's Pride Week, an initiative first started in 2020. Pride Week 2023 starts on Friday!
The tradition, however, goes back to the 2019 Playoff Finals Weekend where fans of all 10 teams decided to make Sunday's final day pride themed – highlighting just how much they value standing up for inclusion and diversity in our sport.
This season, the EIHL is partnering with Pride Tape and You Can Play again, as well as receiving support from a number of other organisations.
"Our fans showed us at the Playoff Finals Weekend back in 2019 how important it is to them that our sport celebrates inclusion and diversity, which led to our first Pride Weekend in 2020. We made a very clear commitment then that we wanted to promote the message that ice hockey is a safe space for LGBTQ+ athletes and fans alike, and were able to celebrate that message with fans in most areas again in 2021/22," said EIHL Media & Communications Manager Luke Fisher.
"Every year both us and our partners are blown away by how much our fans support this initiative and Pride Week 2023 is a huge celebration of how they want our sport to be."
Each team will have a pride-themed night with special jerseys, the images of those already released you can find at the end of this article.
Pride fixtures:
Friday 20.01
Glasgow Clan vs. Nottingham Panthers
Saturday 21.01
Guildford Flames vs. Cardiff Devils
Nottingham Panthers vs. Belfast Giants
Manchester Storm vs. Dundee Stars
Sheffield Steelers vs. Glasgow Clan
Fife Flyers vs. Coventry Blaze
Sunday 22.01
Sheffield Steelers vs. Manchester Storm
Dundee Stars vs. Fife Flyers
Coventry Blaze vs. Guildford Flames
Friday 27.01
Belfast Giants vs. Sheffield Steelers
Sunday 5 February
Cardiff Devils vs. Nottingham Panthers
(The Devils moved their game into February as part of a wider collaboration with Pride Cymru)