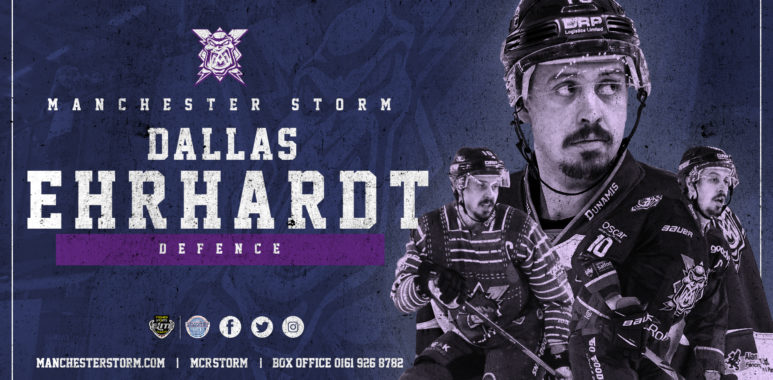 A MESSAGE FROM DALLAS EHRHARDT
First of all, I'd like to thank you all for another warm welcome! I can't be more excited to be back for my seventh year with the organisation.
Manchester has become a home for myself and my wife and can't wait for next season to get here to see our amazing supporters again.
It was great to be back inside the Storm Shelter last year and even though the season didn't go as expected, our fans were a great support all year long. I've greatly enjoyed my years playing under Finner but I know there's some very exciting times ahead for the club with Matt stepping in as Head Coach. Matt's knowledge of the game alongside his passion and drive to compete will be evident in how his team will play.
It's safe to say I'm excited for Matt's opportunity, his hockey smarts are second-to-none and alongside his character I have no doubt he will be a successful coach and I can't wait to assist him in anyway possible as a player and now in an assistant coach role. I know the club is in good hands and can't wait to make sure any new and returning guys are focused on Matt's vision to get our team to where we need to be.
On a personal note Ryan approached me on the opportunity of having a testimonial and I was thrilled at the idea. Over the years here I've met some incredible team-mates and have been welcomed in by not only the storm supporters, but the whole hockey community in the UK. These are very special events that and I can't wait to share it with the people who have supported me on and off the ice during my time here with the Manchester Storm organisation.
On that note, I feel like this will be a very special season ahead and I can't wait to see you all inside the Storm Shelter soon!
Dallas.