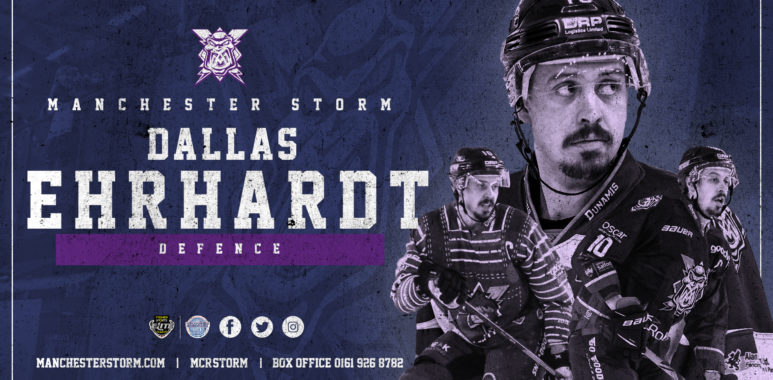 FRANCHISE CORNERSTONE RETURNS FOR SIXTH SEASON
Manchester Storm are thrilled to announce the return of franchise cornerstone Dallas Ehrhardt, for his sixth full EIHL season; alongside his playing duties, Ehrhardt has opted to move-up from the captaincy into the player-assistant coach role for the first time ahead of 2022/23 EIHL campaign.
The blueliner is the most capped player in franchise history, with 259 EIHL and 14 Elite Series appearances for the club. Ehrhardt is currently second overall in total points with 148 (51G 97A), only ten points away from the current record holder Mike Hammond. 
The dual-national has represented Great Britain (from 2018) making 27 international appearances.
Ehrhardt's ability to control the powerplay and extensive experience within the Elite League had the blueliner's return a priority for newly appointed Head Coach, Matt Ginn, who had this to say about the signing:
"I'm very happy to have Dallas back with the club for the upcoming season. He will play big minutes and be a very important part on the back end for us. Dallas has been a top defenceman in this league for many years now and his experience will be relied on heavily in his new role as player assistant coach."
With Dallas moving up into a player-assistant coach role, this means we will see a new Captain at the club for the 2022/23 Elite League season!
#WeAreStorm | #TogetherStronger