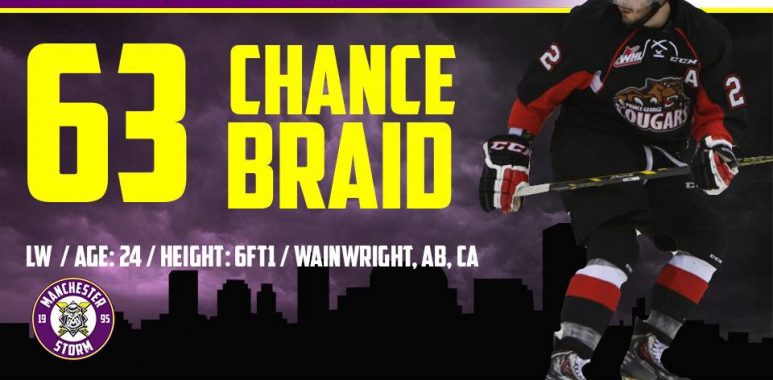 Welcome to Manchester, Chance Braid!
Tickets for Storm's upcoming game against Fife Flyers can be ordered online HERE, or by calling the box office on 0161 926 8782, or in person at the box office.
Your Go Goodwins Manchester Storm are thrilled to announce the signing of forward, Chance Braid, who is joining the club for the remainder of the 2018/19 season!
Hailing from Alberta, Canada, Braid joins the Storm roster in order to add more depth to the lineup. The 6'1" forward joins the Storm from Czech's second league team, HC Benatky nad Jizerou, where he played 21 games in total. Prior to Czech 2, he played for Arcadia University, claiming 24 points, including 13 goals.
Braid also has ECHL experience, playing games for Idaho Steelheads and Allen Americans. From 2011-2015, the 24 year-old iced in the Western Hockey League (WHL), spending three of those seasons with Prince Albert Raiders, collecting a total of 57 points. 2014-15, saw the left-handed forward between Prince George Cougars and Kelowna Rockets, where he claimed 24 points. Braid will be icing with some familiar faces at Storm, having already been teammates with defenceman, Riley Stadel, when they both played for the Rockets – and Rob Linsmayer at Steelheads.
We hope Storm fans will join us in giving a warm welcome to Braid to the Storm Shelter. He will be wearing #63 this season and his jerseys will be available to own and loan shortly. You can subscribe to the club's social media in order to make sure you don't miss out on the special opportunity.
Head coach and General Manager Ryan Finnerty, is pleased with the signing, commenting;
"We've known about the possibility of Chance becoming free for a few weeks now. He plays the game the right way; hard to play against, goes to the net with a purpose and is a physical presence who brings it every game.   
"I haven't been happy with the compete level of some my guys. We are not an organisation that will stand by being mediocre, and I need to see who wants to be here. Chance will make Storm a better team and I'm looking forward to working with him this season!"
With this news,  #19 Dylan Anderson will be departing. The club would like to thank him for all his time so far and wish him good luck with his future.
Finnerty added;  
"Dylan is such a great person and teammate. He never did get going here with the number of imports we have. He is a very popular guy in our club and I would never close the door on having him back in the future, under different circumstances."
If any businesses or individuals would be keen to learn about a fantastic "full player sponsorship" for Chance Braid, please email liam@storm-office.com for more information!
Manchester Storm's next home game is against next Sunday 2nd December, against Fife Flyers, 5:30 face-off!
The club's OSC are hosting the Storm's Christmas Party, Tuesday 18th December at Cresta Court Hotel, 19:00 – late. Email events.stormosc@gmail.com to book, or visit the OSC desk under block 113 on match nights.