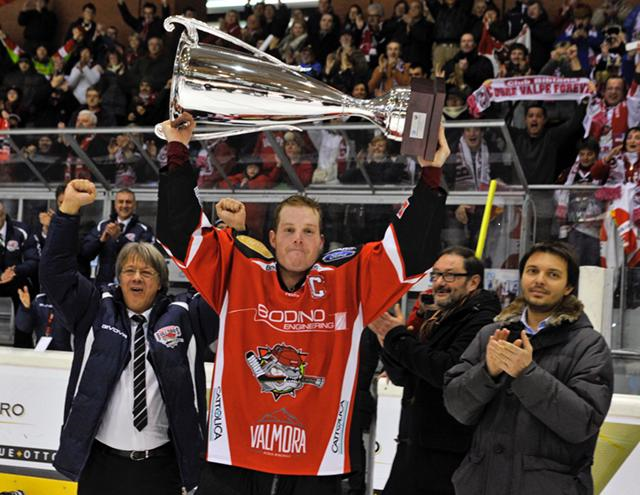 Trevor Johnson Joins The Storm!
SEASON TICKETS: The Go Goodwin's Coaches sponsored Manchester Storm are pleased to announce that season tickets for the 2016/17 Elite Ice Hockey League season are now available to purchase. Season Tickets can be ordered online or by calling the box office on 0161 926 8782, or in person at the box office.
Manchester Storm are delighted to welcome Canadian D man, Trevor Johnson, to the club for season 16/17. The 34 year old dual national, who has represented the Italian national team, will be coming to the UK for the first time, and his arrival is a significant capture for the club.
Johnson, who has spent the past 10 seasons playing in Italy, comes with a rich pedigree, and this is something Coach Omar Pacha acknowledges when he had the following to say about TJ's arrival.
"This is a really important & significant signing for the Storm. Trevor will be leant on to provide a lot on the ice next season, his obvious talent is there for all to see. Trevor is a good skater, can run the power play and possesses a really strong, accurate shot. He competes hard in his own end, and is a physical guy back there. Also, what sold Trevor to me even more were his leadership attributes, that side of things comes easy to him. He is a natural leader, as evidenced in him being team Captain for past 5 seasons in Italy. He's a winner, and has lifted trophies in his career over in Italy, so he knows what it takes to win. Trevor wants to help the Storm brand grow even further next season & sees this as a great opportunity for himself to play an integral part in doing just that. I'm delighted to have secured a player of TJ's quality, the pieces to the jigsaw are falling into place very nicely indeed".
Storm GM, Neil Russell, was equally as happy to have Johnson on board with the Storm, "This is a superb pick up for us. Pach has done an excellent job in selling our vision to Trevor and capturing his signature. As everyone will have heard and read this off-season, leadership is something that we felt needed addressing for next season, and in signing TJ, we have added not just a smashing hockey player, but also a real genuine leader. I've spoken to him a few times via Skype recently, and the way he conducts himself is ultra-professional, and I like that. We spoke at length about Storm, the club vision for continued growth & the importance of engaging with fans/local community across all of Greater Manchester, and this is something that also excites him massively. He wants to be a part of something special & help play a significant part in creating a strong culture here with the Storm. I have no doubt whatsoever Trevor will do that. We are delighted to welcome him to Manchester, he will be a significant player for us, and Storm fans are going to love what he brings night in, night out. We just became a better hockey club today with securing TJ's signature."
OWN & LOAN: If you would like to Own & Loan Trevor Johnson's 2016/2017 jerseys, please get in contact with Storm GM, Neil Russell, immediately! (gm@manchesterstorm.com). The jerseys that are available are as follows; Home League, Away League, Challenge Cup, and both home & away warm up jerseys! First come, first served!
AUDIO: LISTEN TO TREVOR JOHNSON SPEAK ABOUT HIS SIGNING IN MANCHESTER!
https://soundcloud.com/user-881009593/johnson-manchester-is-the-right-fit-for-me/s-xUxEF