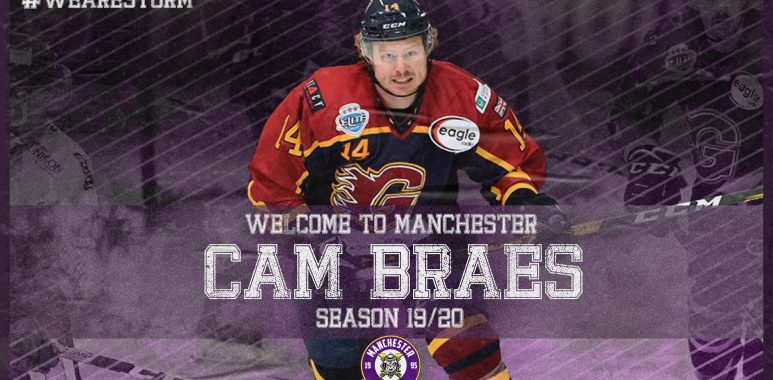 Transfer News: Welcome to Manchester, Cam Braes!
TICKETS: Your Goodwin Group Manchester Storm welcome the Fife Flyers on Sunday the 9th February here at Planet Ice Altrincham in Elite League action! Tickets can be ordered online, by calling 0161-926-8782, or in person at the box office. Face-off is 17:30
Your Goodwin Group Manchester Storm have moved swiftly to secure the services of Cam Braes.
The Canadian forward arrives in Manchester having represented Guildford Flames on 33 occasions already this season. The forward has plenty of previous experience in Europe having played in Switzerland, Czech Republic and Denmark. Braes spent 2017-18 representing HC Thurgau (NLB) playing 45 games producing 47 points (25G 22A). His 2018-19 season was split between Orli Znojmo (EBEL) & Aalborg Pirates (Denmark) in which he tallied 18 points (11G 7A) across 38 appearances.
Head Coach, Ryan Finnerty, had this to say about the latest arrival: We tried to sign Cam In the summer time. I'm familiar with his game and like his style of play. For whatever reason it didn't work out in Guildford, sometimes that happens. Cam adds a bit of Sandpaper to our lineup, he has good skill and will go to the hard areas to score goals."
The Head Coach continued; "I was very disappointed in our effort in Coventry. We had some guys that simply didn't show up and that isn't acceptable at this stage of the season. We need 100% buy in from everyone. If we feel we are not getting it from individuals, they won't be here. I have so much respect for this team, I cannot allow any passengers to derail us. At this stage of the season it's all about character, we need guys willing to do whatever it takes to win. At this stage Cam is an addition to the squad, we are not looking a moving anyone out. As a club we are committed to our fans by giving this team the best chance for success. We will need their support more than ever heading for this playoff push. Bring a friend, neighbour or co-worker and let's get the Shelter rocking for the few remaining home games Storm Fans."
TICKETS: Your Goodwin Group Manchester Storm welcome the Fife Flyers on Sunday the 9th February here at Planet Ice Altrincham in Elite League action! Tickets can be ordered online, by calling 0161-926-8782, or in person at the box office. Face-off is 17:30