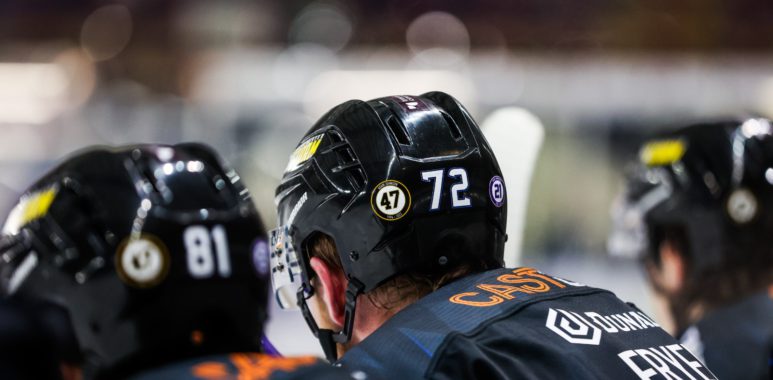 TOUGH NIGHT AT THE OFFICE AS STORM LOSE OUT TO GIANTS
A fitting show of unity and togetherness from both sets of players, and fans alike, pre game paid tribute to the sad passing of Adam Johnson.
The Storm were full of confidence heading into tonight's game following their outstanding win in Cardiff yesterday. The Giants however were looking to bounce back from a home defeat against the Guildford Flames. It was the Storm who had an early first look on the powerplay and a good chance to take the lead. The ever-present Beskorowany had other ideas however, making some important saves behind his penalty kill defence.
Ex Storm forward Ciaran Long would open the scoring in the Shelter following a fortuitous pass that came off the back boards and fell perfectly for him to fire past Weninger. The visitors doubled their lead just a minute later when Preston gifted the puck to Brown straight from the face off in the Storm's defensive zone – a shot from the blue line that left Weninger no chance. With nice shots on goal apiece the first period ended with the Giants up by two.
A fairly even opening five minutes to the middle period didn't really produce any good looks on goal. A pacey dash down centre ice by Corneil set up Martan who nicely placed the puck past Beskorowany from close range to half the deficit for the Storm. Unfortunately for the home side the Giants struck right back less than a minute later to regain their two goal cushion. Nazarian finding the back of the net assisted by Friend and Preston.
A late rally by the Storm's offensive lines wasn't quite enough to regain any advantage heading into the second break. A speculative and spectacular diving back hand shot from Preston put the Giants up by three early in the third. A shot that caught Weninger by surprise on a hard to read play. The evening's first powerplay goal of the game went to the visitors, as Preston got himself on the gamesheet for the forth time with a strong wrister from the hash marks. The Giants closed out the final few minutes to record a 5-1 win at the Shelter.