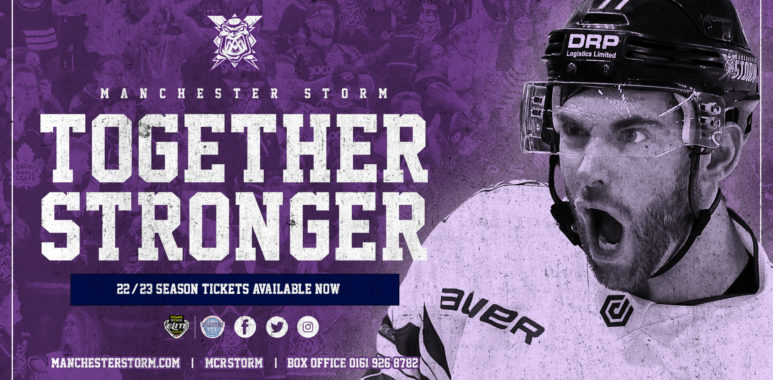 TOGETHER STRONGER: SEASON TICKETS NOW ON PUBLIC SALE
The club are delighted to announce season tickets are now on public sale ahead of our 2022/23 Elite League season. For the new season, we're once again using our digital ticketing platform, powered by 'SZN STUB'
You can visit our digital ticketing platform HERE and secure your seat for the 2022/23 EIHL season today!
The message this off-season is simple, TOGETHER STRONGER. The club. The fans.
In Matt Ginns first interview since becoming Head Coach, Matt made it clear he wanted everyone together as one and pulling in the same direction. This includes you, Manchester! When the 'Storm Shelter' is full and the noise levels are raised, there is no doubt we can defeat any team in our building and we look forward to taking the league by storm once again!
The 2022/23 season ticket covers 31 fixtures inside the Storm Shelter (League / Challenge Cup) and you can witness every goal, every hit and every big moment live.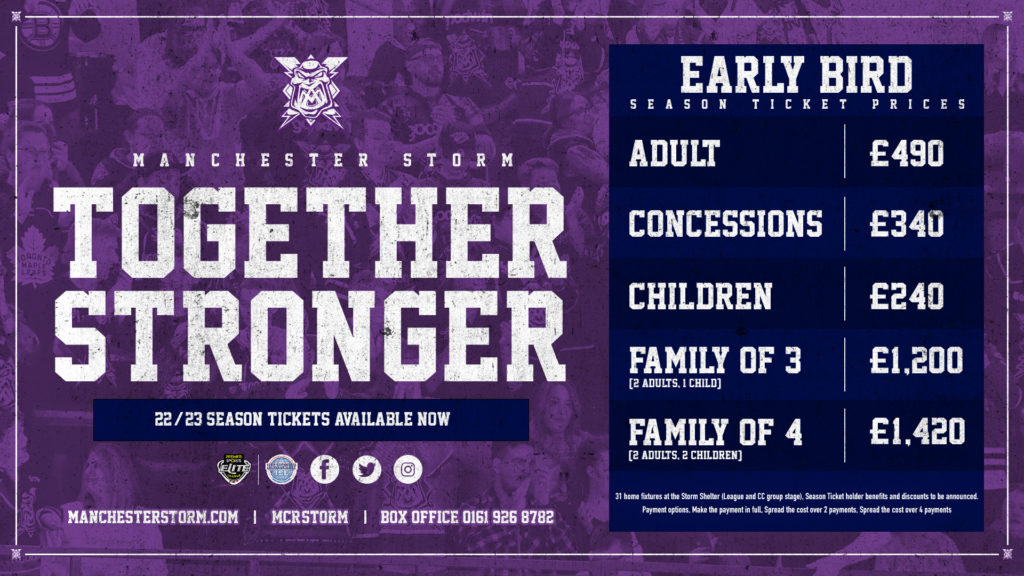 Secure your seat NOW at the #EarlyBird cost HERE. 
Once again, there are multiple payment options available and also family tickets for all to enjoy. You can purchase the season ticket outright or spread the cost over two months or four months! We understand the current financial climate and we hope we have made it a little easier for you all to secure your seats inside the Storm Shelter for the upcoming season.
If you have any questions with regards to securing a season ticket or the payment options available, please email seasontickets@storm-office.com. If you need technical assistance using our digital ticketing platform, please open a support ticket at www.manchesterstorm.com/support
We can't wait to see you all inside the Storm Shelter again, Manchester!
#WeAreStorm | #Manchester