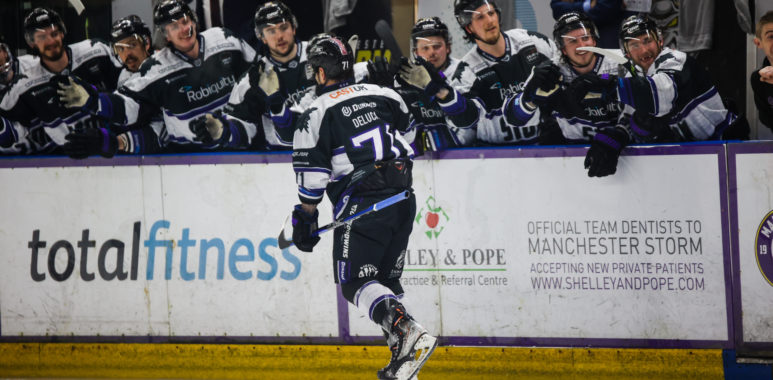 STORM WIN INSIDE PACKED STORM SHELTER!
The Storm got off to the better start early on, forcing Svensson in to some good saves. The Stars struck first however, against the run of play, cycling the puck in deep and finding Folk all alone infront of Brodeur.
The Storm equalised, on the powerplay, within the final minute of the first period when DeLuca fired a heavy slapshot which ripped past the defence men. Herrmann picked up the assist with a pin point pass which sent Svensson sprawling to try and close down his far post.
Despite massively out shooting the Stars the score remained level heading in to the break. The Stars went a goal up early in the second. A floated shot from the wing was tipped in by Sokay which sent Brodeur the wrong way. It didn't take long for the Storm to reply when DeLuca out muscled the last defender and pulled a nice deke to slide the puck past Svensson.
Fawcett put the Storm ahead for the first time after a close range shot, set up by Bricknell, flew high past the netminder's glove. Reinhardt was assessed a major five plus game boarding penalty for a crunching hit on Herrmann which left the defenceman bloodied and the Stars down a man for the remainder of the game.
A back and forth end to the period was punctuated with some outstanding saves made by Brodeur. Both sides would come close to scoring in the opening half of the final period, but again both netminders stood strong, setting up a tense final few minutes. The Stars opted to pull their netminder with three minutes left in the game to try and draw level – the home team held strong however and took an important two points infront of a packed Storm Shelter.