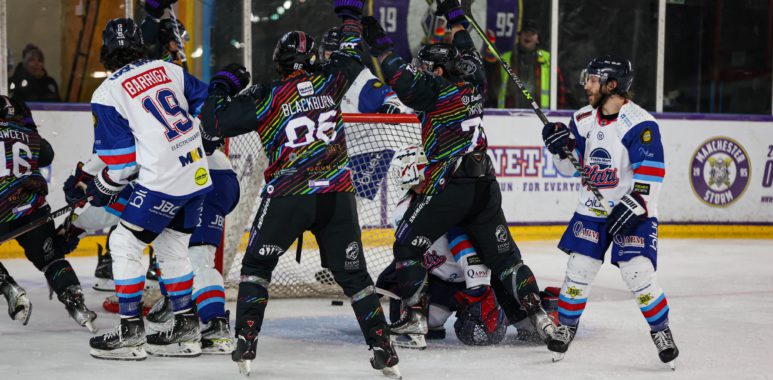 STORM WIN IN FRONT OF PACKED STORM SHELTER!
Manchester Storm survived a late Dundee Stars fightback to take two valuable home points in their quest for a place in the Viaplay Elite League Playoffs, seeing the Stars slip to last place in the standings in the process.
Storm scored the first goal of the game in the second period at 22:12, with Tyler Barrow deflecting the shot a Joe Hazeldine into the net. Just 90 seconds later, the hosts scored again with Stephen Johnson deflecting the puck into the back of the net.
Dundee were able to get on the board at 25:19 with a quick wrister from Christopher Lidjsman during some 4-on-4 play, but Tyson Fawcett extended the Storm's lead to 3-1 at 29:39 by tucking in a rebound in front of the net. Anthony Deluca scored the fifth goal of the game for Manchester on the powerplay at 33:35, beating Anton Svensson five-hole with a quick wrist shot.
The Stars scored early in the third period through Hugo Reinhardt at 43:32 to get themselves back to within two , but Anthony Deluca netted his second goal of the game to give the Storm a 5-2 lead at 55:27. The Stars answered right back with a goal from Philippe Sanche at 56:42, who slid the puck under Jeremy Brodeur, and then Johan Eriksson batted the puck into the net from the slot at 58:27 to set the final score of 5-4.