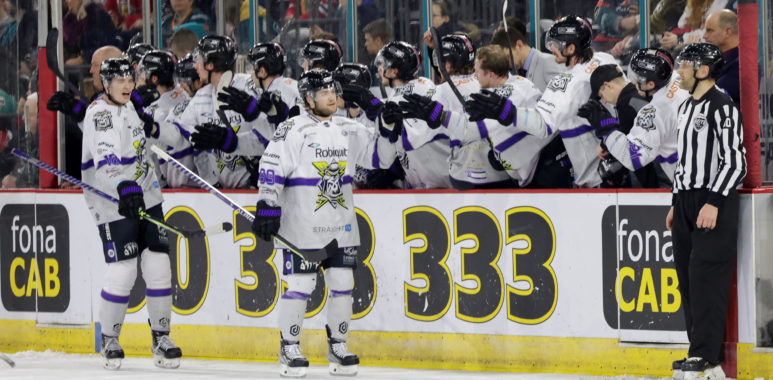 STORM WIN IN BELFAST AFTER GIANT PERFORMANCE!
Manchester Storm responded to a 5-1 home defeat by Coventry Blaze on Friday night with an excellent 5-2 road win in Belfast on Saturday, their second road win in a row, ruining the Giants' return to home ice after almost a month of away games.
The visitors had the better of the opening period chances and were one ahead after 20 minutes, though could have been more. Ryan Barrow opened the scoring just past the five-minute mark, and could have added to their lead on a late powerplay were it not for a string of saves from Jackson Whistle.
Be Lake tied things up 69 seconds into period two after the Storm had failed to clear their lines, starting the tossing of thousands of bears onto the ice. With the ice tidied up and the game back on Belfast went ahead at 25:13 thanks to a nice pass from Lewis Hook to the back post where Will Cullen was waiting to lift the puck home past Jeremy Brodeur. Storm were behind for only four minutes, though, as Scott Simmonds capitalised on a bad change to fire top shelf past Whistle shorthanded at 29:12. Some five minutes later on the powerplay, neat passing from Anthony DeLuca and Jesper Ohrvall set up Simmonds for a far-post tap-in that put the visitors back ahead. Jesper Ohrvall then produced a fine piece of skill to extend that lead to 4-2 at 37:35.
The Giants threw shots at Brodeur's net in period three but to no avail, with the closest they came being the puck pushed over the goal line after the whistle had already been blown.
Tyson Fawcett found the empty net with 65 seconds remaining to round off the Storm's win – the two teams meet again tomorrow in Belfast.