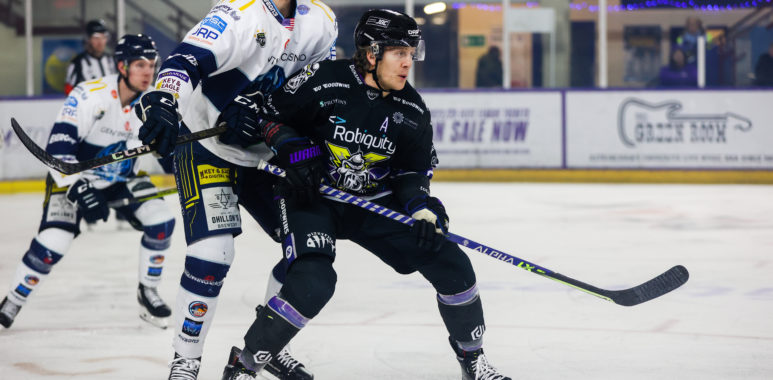 Blaze go second with big win in Manchester
Coventry Blaze moved second in the Viaplay Elite League standings with an impressive road win in Manchester on Friday night.
Blaze were delayed on their way to the Storm Shelter in traffic but got off to a decent start killing off a penalty before taking the lead inside 15 minutes – Colton Yellow Horn opened the scoring at 14:14 from a Marly Quince feed as the Blaze broke 2-on-0.
Quince had the smart pass behind to Brady Norrish which set up the visitors' second of the night through Mitch Cook with the rebound tap-in. While the opening period had a couple of scuffles after the whistle, the second saw several in its early stages including Scott Simmonds receiving a minor penalty for a mistimed hit in the process before Tanner Lishchynsky invited him to dance. Jesper Ohrvall netted his 18th of the season on a loose puck in front of Paavo Hölsä to get Storm on the board with 39:39 played.
Storm Head Coach Matt Ginn was ejected from the bench for Abuse of Officials with 4:41 left in the middle frame.
The ever-lively Anthony DeLuca crashed a shot off the iron as Storm pushed for an equaliser early in the third, but on the very next play Norrish fired in a huge slapshot from just over the blue line to put Coventry 3-1 ahead at 44:51.
Radek Veselý cut inside the offensive zone to beat Jeremy Brodeur glove side at 51:23, before Nathan Ripley added the Blaze's fifth just under two minutes later on the same side, ending Brodeur's night in net prematurely.