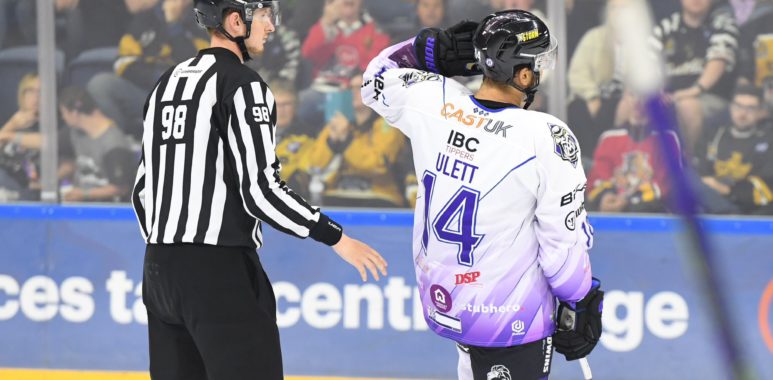 STORM WIN FIRST LEAGUE GAME OF SEASON IN NOTTINGHAM!
Manchester Storm bounced back from a 4-2 home defeat to Nottingham on Saturday night (Challenge Cup) by beating the Panthers 3-2 on Sunday (League Fixture) in front of 4,971 fans at the Motorpoint Arena.
Less than 24 hours after the Panthers ran in three goals inside the opening six minutes in Manchester, period one ended scoreless  despite the hosts out-shooting their guests 13 to 4.
There were hints of Saturday night, however, about the way the second period unfolded. Mitchell Martan raced through on a breakaway and scored with a shot that snuck through Rok Stojanovič – and one quickly became three in a five-minute spell. Loren Ulett centred for Santeri Haarala in the slot to double the lead at 31:31, before Tyler Hinam made it 3-0 wit h32:55 played to shock the home crowd. Jonathan Paredes called a timeout to rally his Panthers players after the third goal.
Nottingham needed to score next to have any chance of getting back in the game in the third, and they obliged with Otto Nieminen credited for a goal that deflected off a Storm defenseman at the top of the crease. Hugo Roy brought the hosts back to within one with 13:32 left to play thanks to a rocket of a one-timer off a feed from behind the net from Nieminen.
Evan Weninger pulled off several excellent, last-ditch saves to keep Manchester ahead as the Panthers pushed hard for a late tying goal. But it was the visitors' night as they held on for the win, their first of this season including exhibition games.