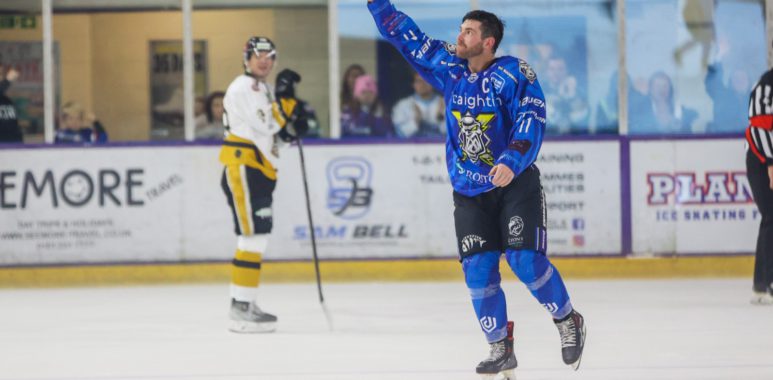 STORM WIN BIG INSIDE STORM SHELTER!
Manchester Storm picked up their second win of the week, and fourth in five games, after a high-scoring win against Nottingham Panthers on Sunday.
It was a lively start at the Storm Shelter with four goals over the opening 20 minutes. Nottingham struck first through Jake Ryczek with just 2:16 played, but they were pegged back at 7:46 by Callum Fryer who followed up on a rebound off a CJ Garcia shot. A little under three minutes later, Well Merchant shot past Mike Robinson short side to put Storm ahead. However, the visitors were level through a Tyler Welsh powerplay goal with 12:32 played.
Period two had no let-up in the scoring. Storm went back ahead 6:19 into the middle period shorthanded as Mitchell Martan broke forward, choosing not to pass and beating Robinson with an excellent finish. IT was the Panthers' turn to score shorthanded at 30:32, but Merchant ensured the home side would be ahead at the 40-minute buzzer with powerplay marker three minutes later. The period also saw Cam Critchlow and Westin Michaud called for fighting.
Tyler Hinam finished off a tic-tac-toe play at 42:33 to put Storm three ahead after the Panthers failed to clear their lines and turned the puck over in their own zone. Johnny Corneil made it six for the host at 51:09, although Michaud responded 20 seconds later to keep things at a two-goal game. Panthers coach Jonathan Paredes pulled Robinson with 3:28 to play as he looked for a one of the two back he needed, but the gamble backfired with Zach Sullivan scoring on the empty net with 2:46 to go.
By virtue of other scores in the league, Storm stay top despite only playing one Challenge cup fixture this weekend – they now sit second in Group C.