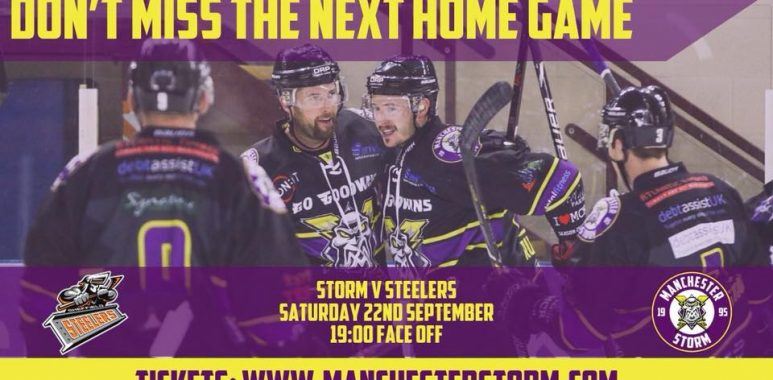 LEAGUE MATCH REPORT: Manchester Storm 2 – 4 Glasgow Clan
Tickets for Storm's upcoming game against Sheffield Steelers  can be ordered online HERE, or by calling the box office on 0161 926 8782, or in person at the box office.
Go Goodwins Manchester Storm returned home to the Shelter on Sunday night to face the fresh looking Glasgow Clan, who visited the Shelter for the first time since replacing their name, their coach, and the majority of last season's team. Storm came home after securing two points in an extremely tense penalty shootout win over Sheffield Steelers the previous night, but faced a tough challenge in the revitalised Glasgow team.
The first period saw chances at both ends, with Ginn facing 10 shots from Clan and Clan's Rumpel saving 11 shots from Storm. It was a fairly clean period, with Clan's Gratton being the first to sit two minutes for hooking at 8:33. Clan drew first blood in the "Purple Derby", when Travis Ehrhardt scored five-hole, with a slap shot on the power play in the final minute of the first, after Linden Springer was sent to the penalty box for tripping.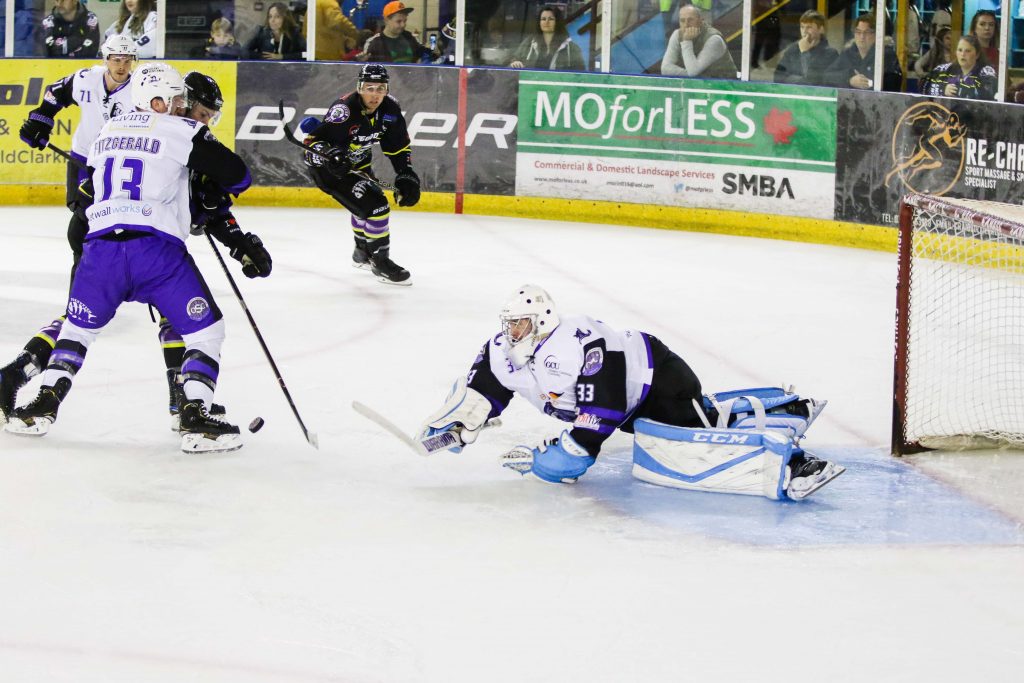 Just three seconds into the second period, Gratton decided to drop gloves and settle beefs, offering out Linden Springer, who duly accepted, leading to an on-ice heavyweight bout. Gratton came into the Elite League branded the "toughest player the league has seen", and found himself matched shot for shot by Springer. Gratton left the ice for treatment before joining Springer in the penalty boxes, both men given five minutes for fighting – the fight itself got a massive 10 from both sets of fans, who were treated to one of the best hockey fights in a long time.
Shortly after, at 20:34, Clan opened up a two goal lead with Scott Pitt returning to the Storm Shelter once again in Clan colours, slotting the puck home with an assist from Stupka, who is on a one month trial with the team. Things become more heated a few minutes later, as there were handbags in the Storm end, resulting in Storm's Moffat sitting a minor penalty for charging, shortly after Clan forward, Bjerrum had been sent to the box for tripping.
Storm fought back, when Basara put one past Rumpel on a rebound, assisted by Stadel and Anderson. Storm managed to equalise the scoreline at the 30 minute mark, when Captain, Byers slotted home with an assist from Moffat.
Clan Captain Fitzgerald tried to instigate a fight with Shane Bakker, who wasn't rising to the bait, letting himself be shaken rather than retaliate and take penalties. With Fitzgerald sitting in the box for cross checking, Storm took their chances again on a solid powerplay, but had no luck getting past Rumpel.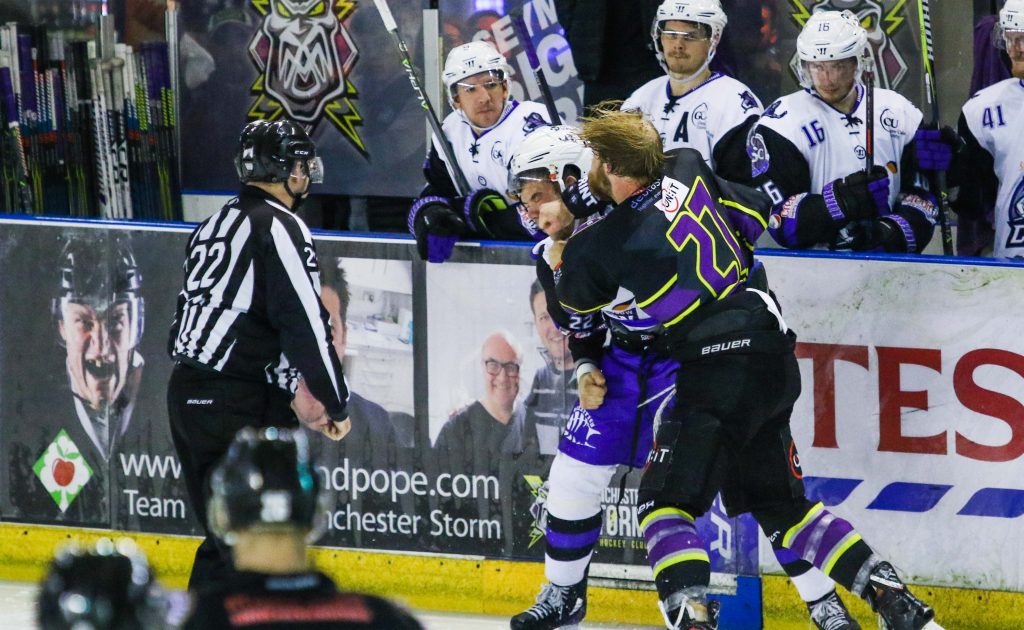 The third period was fast-paced and aside from the fight, Storm took only two penalties in a much more disciplined game than spectators have witnessed so far.
The final ten minutes were tense, but disappointing for Storm, as they conceded two more goals – a second backdoor goal for Pitt, and an empty net goal for Connelly, after Ginn was pulled in the 58th minute of play.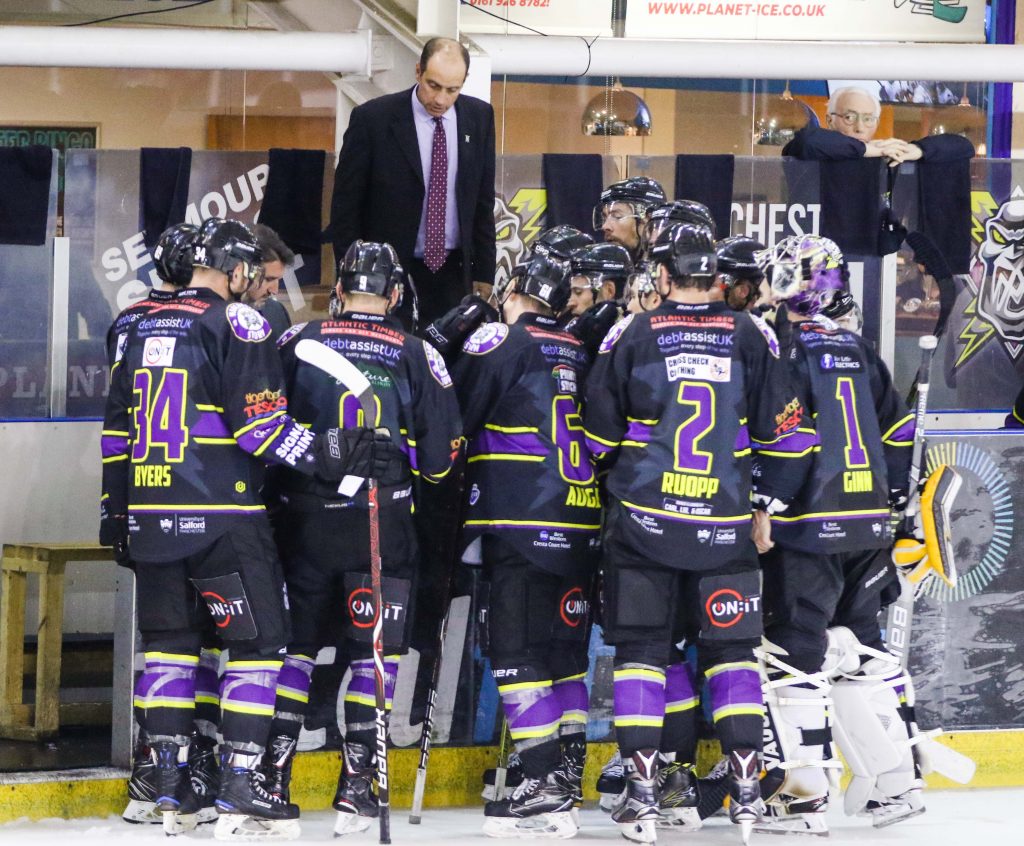 The Man of the Match for Clan went to Scott Pitt.
Man of the match for Storm went to Shane Bakker.
Storm's Player of Month went to netminder, Matt Ginn.
Follow Storm's next home game as they play against Sheffield Steelers in a Challenge Cup on Saturday 22nd September, 19:00 face-off.
Don't forget you can still make a donation for Luke Moffatt's Charity Wing Walk event HERE, or why not secure one of the 2018/2019 Own & Loan jerseys Here.