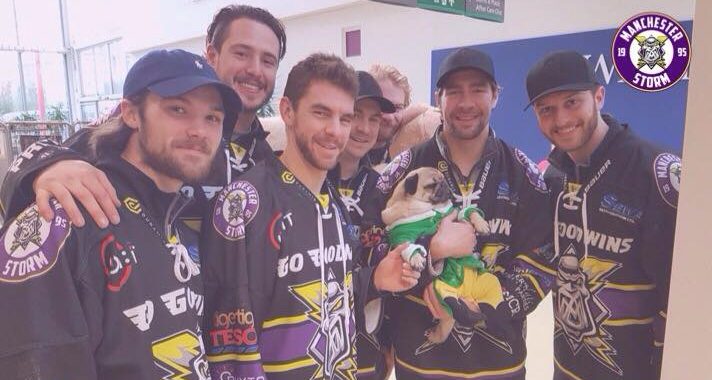 Storm Visit Royal Manchester Children's Hospital!
There are no Storm home games this weekend, as the team fly to Belfast to face the Giants in a double header. If you're not travelling over to Belfast this weekend, there's only 5  more days to wait until they face Glasgow Clan at home, 26th December at 17:30PM.
The Manchester Storm organisation would like to thank the fans and hockey community that came together over the weekend of the 15-16th of December to donate to two amazing causes. Saturday saw the annual #TeddyBearToss, where hundreds of teddies were thrown onto the ice when Manchester Storm scored their first goal. Over 400 teddy's made their way to the ice during the game against Cardiff Devils on Saturday 15th, and all the wrapped bears were taken to the hospital to bring a little Christmas cheer.
Manchester Storm made a visit to the Royal Manchester Children's Hospital on Wednesday 19th, to spend time with children who are currently being treated by the hospital, and to distribute gifts donated by Storm Fans. A sense of community is important to the club, and the players and the children all had smiles on their faces.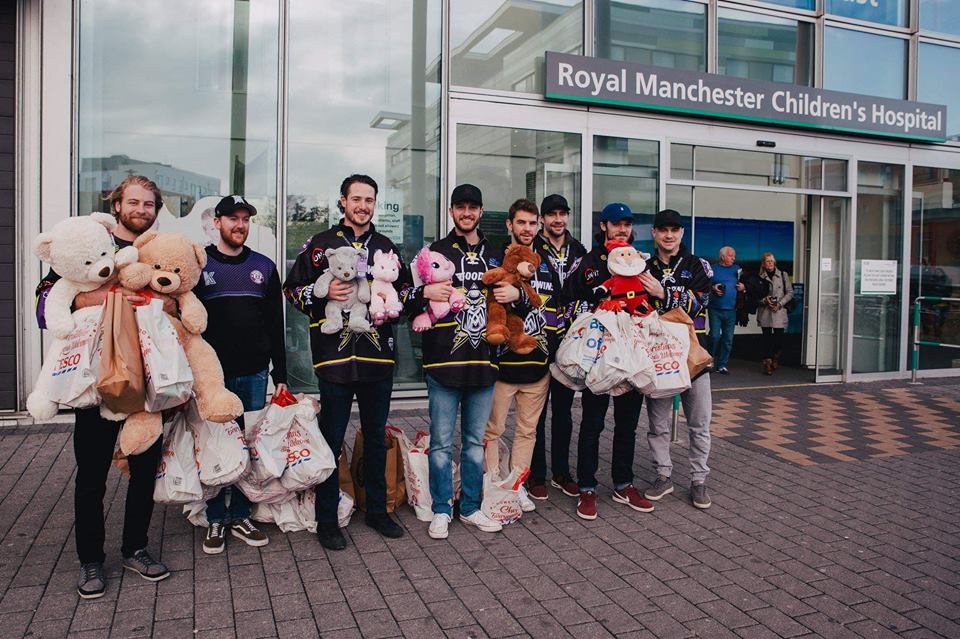 Sunday was our first #HockeyFightsHomelessness night at the Storm shelter, which was a huge success. Thousands of items of clothing & sanitary products donated on the night were sorted through and given to Shelter, Manchester.
Liam Hesketh (Sponsorship & Marketing) & Chloe Carhart (Storm TV) also made their way into Manchester City Centre on Tuesday 18th December to volunteer time with local charity, Coffee4Craig to hand out some of the warm winter clothing donated by the Manchester Storm fans.
Liam Hesketh commented;
"Homelessness is on the rise in Manchester and has been for a number of years. The fans and hockey community have come together and made this event a success.
"Thousands of items were donated and now we have put those items of clothing directly onto the streets of Manchester for the people that need them the most. The hockey community should be proud of themselves. We will look to make this an annual event as the fight against homelessness continues."
Manchester Storm defenceman, Linden Springer added;
"I'd like to thank the Royal Manchester Children's Hospital for allowing us to be apart of such an amazing day with their kids. Thank you to all of the nurses and doctors who helped us throughout the day. We are immensely grateful for the help of our fans and supporters for providing us with such incredible donations. This gave us the opportunity to put smiles on the faces of some amazing children."