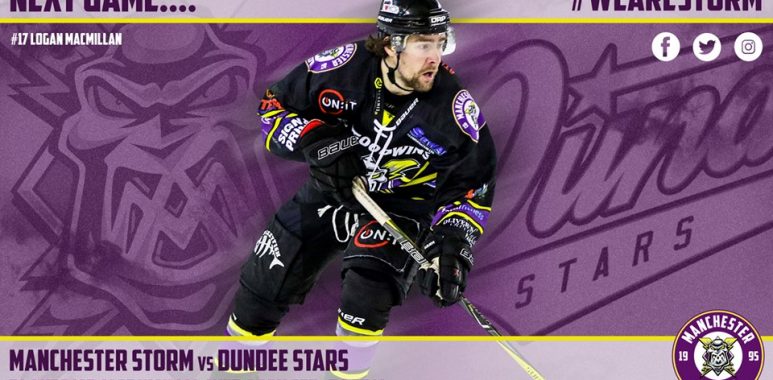 Latest News
Match Previews
MATCH PREVIEW: Storm Face the Stars in Mid-Week Game!
Tickets for Storm's upcoming game against Dundee Stars can be ordered online HERE, or by calling the Box Office on 0161 926 8782, or in person at the box office. Face-off is Wednesday 20th February, 19:30 face-off.
MANCHESTER STORM V DUNDEE STARS – WEDNESDAY 20TH FEBRUARY, 19:30 FACE-OFF, PLANET ICE ALTRINCHAM.
Join us for a mid-week game at the Storm Shelter, as Dundee make the trip down to Altrincham for a 19:30 face-off.
Manchester Storm recently signed British defenceman Sam Zajac and forward, Liam Morris on two-way contracts for the remainder of the 2018/19 season. Expect to see Morris icing this evening, as he makes his EIHL debut. The Scottsman is on a two-way contract with NIHL side, Basingstoke Bison, currently on 18 points across 17 games. Icing again tonight is Zajac, who made his debut with the Storm last weekend.
Returning to tonight's line-up is captain, Dane Byers. Having been sidelined with a concussion, Evan Richardson will not be icing tonight.
The Stars have recently confirmed the unfortunate news that Canadian forward François Bouchard, has been ruled out of the remaining games of the season due to an injury.
The last time the two teams met in Altrincham, the Storm won 4-3 in overtime, three of those goals from former Stars defenceman – Riley Stadel. There are currently three points between the teams, as they both compete in tonight's crucial game on the run up to playoffs. Come and show your support, for what will be the penultimate meeting between the two teams in Altrincham this season.
The players will be doing a meet and greet in Jack's Bar after the game. Seeing as it's half term, why not pop in with the family? This is also the perfect opportunity to meet the new players. Bring something that can be signed. This month's programme is available in Manchester Storm Store and has photos throughout, which can be signed.
MATCH NIGHT INFORMATION
Doors open Wednesday 20th February, 18:30PM
Face-off is 19:30PM
Tonight's Shirt off the Back is netminder, Matt Ginn
Tonight you can win one Storm defenceman, Felix Poulin's signed stick. Stick raffle tickets can be purchased by volunteers around the rink
There will be a meet and greet in Jack's Bar following the game
Ticket information for games can be found here
Make sure you pay a visit the OSC stall underneath block 113 You can purchase 50/50 tickets and also enter the match night "Chuck A Puck" competition as well as book onto OSC events
Storm TV have you covered if you can't make tonight's game, buy the webcast here
As this is a mid-week game, there will be no post game skate available
The Station Hotel – Storm's official pub, will be open to fans for pre-match drinks
You can find Information for the rinks entrance arrangements here
If you're looking at group bookings for any remaining games this season, contact liam@storm-office.com for more information
You can now vote for the Man of the Match following home games via menti.com, keep your eye on the jumbotron for more information at the game
You can next see the Storm in action on Sunday 24th February for our annual Pink the Rink game against visitors, the Sheffield Steelers. The club will be raising money and awareness for Prevent Breast Cancer, as part of Altrincham's annual "Paint Altrincham Pink" week (24th Feb-3rd March). Find more information here.
The OSC have a special "Ladies Night" coming up on 26th February 2019 – 7:00pm-late. TODAY is your final day to book and pay for this fantastic event. It will be held at Tiger Tiger Manchester and  includes a three course meal plus a drink on arrival. Manchester Storm have teamed up with NORFOX Charity for this event. Contact events.stormosc@gmail.com for more information or visit the OSC stall this evening.