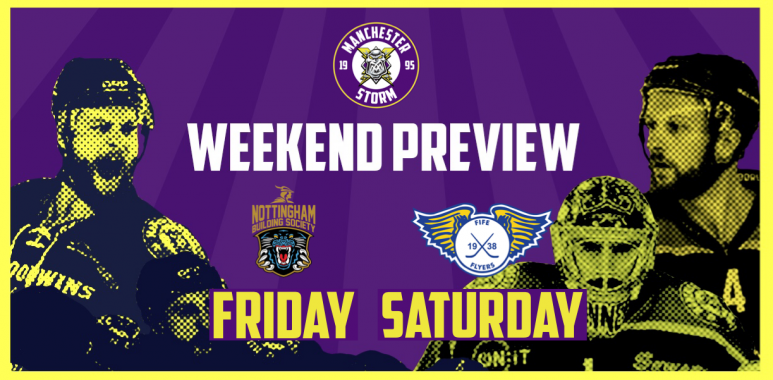 Latest News
Match Previews
Weekend Preview: Skate with the Storm this Saturday!
Tickets for Storm's upcoming game against Fife Flyers can be ordered online HERE, or by calling the box office on 0161 926 8782, or in person at the box office.
MANCHESTER STORM V NOTTINGHAM PANTHERS – Friday 2nd November, Challenge Cup, Motorpoint Arena 19:30 face-off.
Storm travel to Nottingham today to compete for the Challenge Cup against the Panthers. Storm visited Nottingham on 8th September for the first ever EIHL game of the season. It was a closely matched game, with Panthers taking the win 2-1
The last time Panthers paid a visit to the Storm shelter for their first Challenge Cup game of the season, Storm went from 2-0 down, to winning 4-3 in overtime.
Despite Storm already making it through to the knockout stages of the Challenge Cup, the players will want a strong performance in order to pursue the chase for some silverware. This season has proved that any team can beat each other so far.
MANCHESTER STORM V FIFE FLYERS – Saturday 3rd November, Planet Ice Altrincham, 19:00 face-off, 
Fife Flyers visit the Storm Shelter for the first time this season. Don't forget to bring your skates, something to be signed and dress up, as we host a belated Spooktacular Saturday for Halloween, as well a chance to skate with the Storm post game.
Last season saw Storm and Flyers battle it out for a top four spot in the EIHL playoff weekend. The first leg away at Fife saw Storm victorious on a 4-1 win. The second leg on the 1st April 2018, resulted in Fife only just claiming the playoff spot, winning 5-1 in overtime.
Fife currently stand in joint first place with Belfast Giants and Nottingham Panthers in the EIHL table so far, with 20 points. Despite slight changes in the team rosters, you can always expect a physical, competitive game against Fife, so this one is not one to be missed!
New players to the Flyers this season include Canadian Forwards Joe Basaraba, Brett Bulmer and American defenceman, Rick Pinkston.
New to the team's roster but not the EIHL include ex Edinburgh Capitals, Mike Cazzola, who got one point average per game last season, as well as the likes of Paul Crowder, Scott Aarssen and Scotsman Bari McKenzie.
One to Watch: Joe Basaraba, 2010 round 3 #69 overall by Florida Panthers.
MATCH NIGHT INFORMATION
Shirt off the back: Ciaran Long 4-Nations jersey
Stick raffle: Linden Springer
Doors open Saturday 3rd from 6:00pm
This season's first Skate with the Storm will be happening post game. It's free with own skates or £2.50 for skate hire
Head to Jack's Bar to join in the Halloween party
50/50 & "Chuck A Puck" can be bought from the OSC stall, underneath block 113
Not able to make the game but still want to watch? The webcast for the game can be bought here via Storm TV for £10
The Station Hotel, Storm's official pub, will be open to fans for pre-match drinks
Find the information for the rinks entrance arrangements here
Storm's next home game is next Friday 9th, 7:30pm face-off at Planet Ice Altrincham!
The OSC have a Storm Smartphone Quiz event at Cresta Court Hotel, on Sunday 4th November, 4pm-7:15pm email eventsstormosc@gmail.com to book!