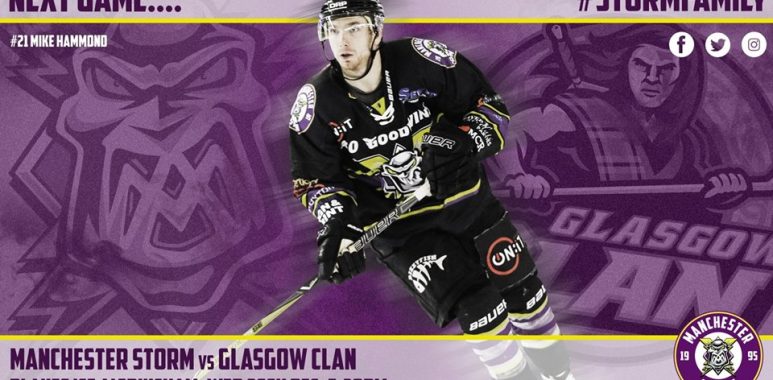 Latest News
Match Previews
MATCH PREVIEW: Storm Face Clan in Boxing Day Game!
Join us this Boxing Day as Manchester Storm face the Glasgow Clan, 26th December, 17:30PM face-off!
There were no home games last weekend as your Go Goodwins Manchester Storm faced Belfast Giants in an away double header, returning home for Christmas with two points, after winning 3-2 in a thrilling shootout on Friday 21st. Sunday wasn't in Storm's favour, as they were unable to obtain a win the second time in a row. The two teams don't face each other again until March.
GLASGOW CLAN – 26TH DECEMBER, 17:30 FACE-OFF, PLANET ICE ALTRINCHAM
Clan have visited the Storm Shelter twice so far this season, Storm losing 4-2 in September and winning by a fair amount in October, with a scoreline of 6-2. The 9th of December saw Storm and Clan's most recent game; where Storm took the win against Clan 4-2 away in Glasgow, seeing goals from Bakker, Richardson (x2) and Poulin.
On December 12th, news was out that Canadian Winger, Josh Gratton had been released by Clan, and that the club were working on a replacement. The replacement was ex-Devils forward, Guillaume Doucet – signed for the remainder of the season.
Storm are due to face Clan again tomorrow, as they take the road trip to Braehead Arena in hopes of two points on the road.
Whether you've been cooped up with family over this Christmas period and want a break, or want an evening out with friends and family; come to the Storm Shelter, as the club hosts it's traditional Boxing Day hockey game. We hope you have had a brilliant Christmas and look forward to seeing you for the final game of 2018!
MATCH NIGHT INFORMATION
Doors open Wednesday 26th from 16:30pm
Parking outside the rink is free from 3PM, as part of Trafford Council's Christmas Scheme, read more HERE
Stick Raffle is Chris Auger
Ticket information can be found HERE
50/50 & "Chuck A Puck" can be bought from the OSC stall, underneath block 113, and from match night sellers based around the rink
Find some time to check out the OSC stall, for information on upcoming events and other offers
Having to miss the game in person? The webcast can be bought HERE thanks to Storm TV for £10
There will be a post-game skate. Free for those with skates and only £2.50 for attendees without skates
Find the information for the rinks entrance arrangements HERE
You can next see the Storm ice at home on New Year's Day, as they face Sheffield Steelers for the annual New Year game. The players will be wearing special one of a kind Winter Classic themed jerseys for this game, 17:30 face-off!
The club is holding their second Skate with the Storm event this season, on Wednesday 2nd January, 0915-10:00AM. Stay tuned for more information!