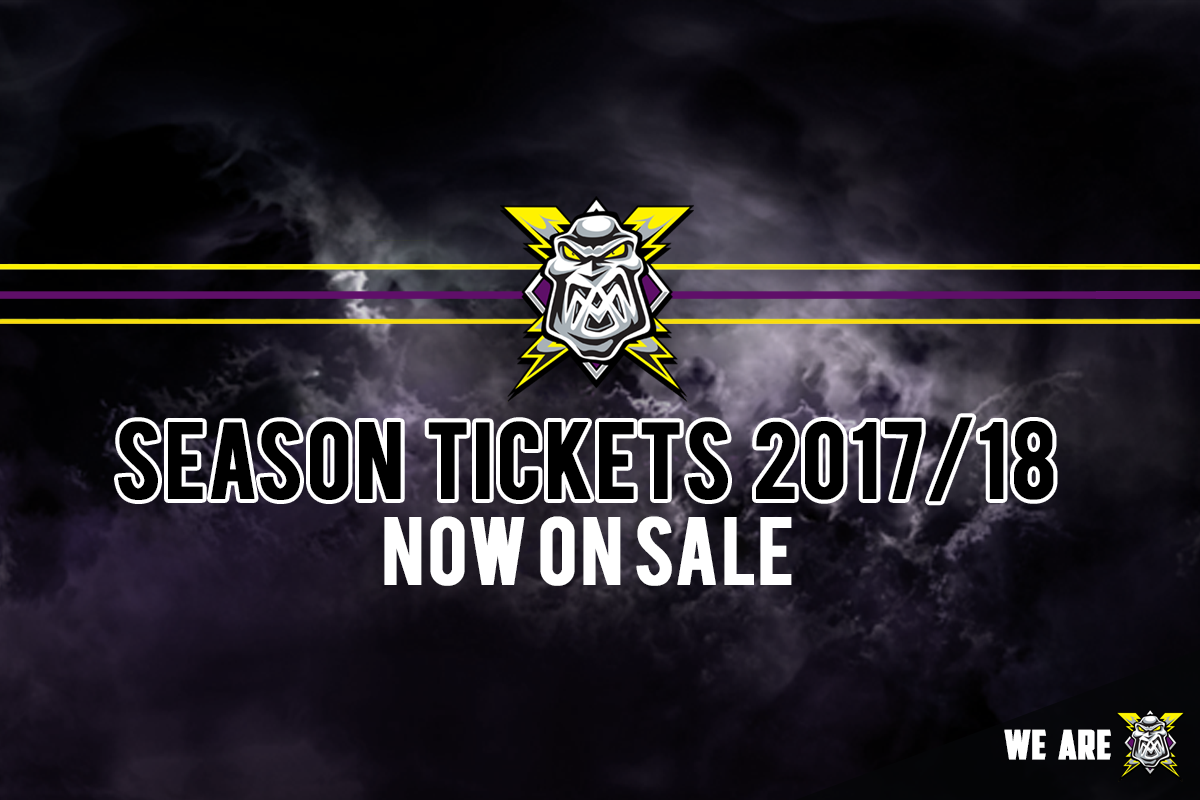 Storm Season Tickets 17/18 On Sale Now!
The 17/18 Go Goodwins Manchester Storm Season Tickets are now on sale!
Click HERE to download your season ticket application
Included in the 17/18 Season tickets are all Elite League regular season games and all Challenge Cup group games (31 games total). Current Season Ticket holders will have until Friday the 30th June to renew their current seats. All other seats will be available immediately.
The 'early bird' option will allow you to take advantage of a Season Ticket discount as well as the option to pay in 4 instalments if purchased before the 30th June. Normal prices will apply from the 1st July.
To apply for a Season Ticket, simply download the application form HERE, fill it in and either send it back via email to season.tickets@manchesterstorm.com or hand it the SilverBlades Ice Rink Altrincham box office (in person or via post). Terms and conditions can be found HERE & payment plan details can be found HERE.
NB: Silverblades Altrincham do not accept American Express
| Season Ticket Type | Normal Price | Early Bird Price |
| --- | --- | --- |
| Adult | £542.50 | £437.50 |
| Child (3+) | £248.00 | £199.00 |
| Disabled (or Carer) | £372.00 | £299.00 |
| Student (With valid ID) | £372.00 | £299.00 |
| Young Person (Under 21) | £372.00 | £299.00 |
| Senior Citizen (60+) | £372.00 | £299.00 |
| Family Package A (2 Adults + 2 Children) | £1426.00 | £1150.00 |
| Family Package B (2 Adults + 1 Children) | £1240.00 | £1000.00 |
Game Day Ticket Prices 17/18
| Ticket Type | Individual Game Price |
| --- | --- |
| Adult | £17.50 |
| Child (3+) | £8.00 |
| Disabled (or Carer) | £12.00 |
| Senior Citizen (60+) | £12.00 |
| Young Adult (Under 21) | £12.00 |
| Student (With valid ID) | £12.00 |
| Family Package A (2 Adults + 2 Children) | £46.00 |
| Family Package B (2 Adults + 1 Children) | £40.00 |