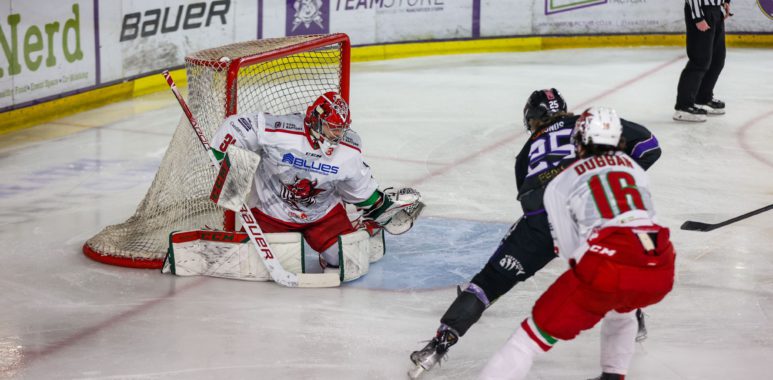 STORM PICK UP POINT AFTER PENALTY SHOTS
The Cardiff Devils were the visitors on Thursday evening at the Shelter ahead of a busy run of festive fixtures.
Storm had an opportunity early on to get the first goal of the game when they were awarded a full two minute five on three powerplay. Despite pinning the Devil's down in their defensive zone the Storm failed to take advantage with Kozun making some smart saves in the process.
The Devils thought they had taken the lead midway through the period when Brittain tipped the puck past Brodeur, a coaches challenge had the goal chalked off however, when the replay showed the final touch was infact a high stick. An unfortunate collision mid ice between the Storm's defensive pairing led to an unimpeded breakaway for the Devils, and it was Crandall who put the puck past Brodeur to take a one goal lead heading in to the interval.
The first half of the middle period was a cagey affair as both netminders pulled off some impressive saves. Johnson eventually got the Storm off the mark with a shot from the slot which ripped past Kozun's blocker side and in to the top corner. An even strength goal assisted by Johnson. The teams were deadlocked at a goal apiece setting up an important final period with all to play for. Both sides had some decent chances to go ahead in the third but again Brodeur and Kozun seemed unbeatable and a 3v3 overtime period was forthcoming.
With no goal coming in overtime a penalty shootout was needed to find a winner. Unfortunately for the Storm it was the Devils who took the win as Cox and Martin both found the back of the net on their penalty shots.