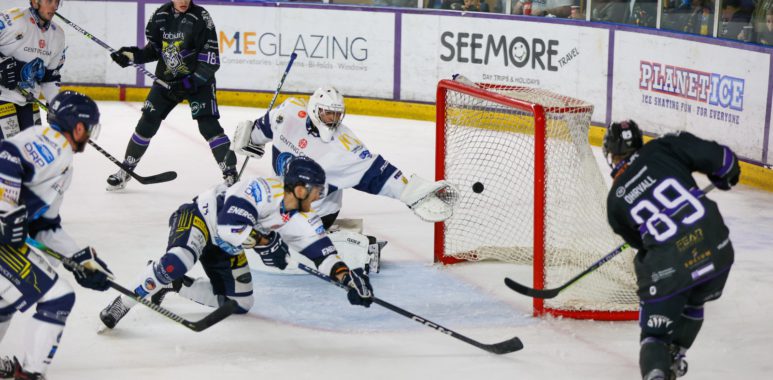 STORM PICK UP FIRST LEAGUE POINT IN OVERTIME AFTER 9 GOAL THRILLER
An enthralling first league game at the Shelter saw Coventry Blaze secure a narrow victory, 5-4 victory in overtime.
A dominant opening period by the Storm saw them deservedly pull two-goals ahead of the visiting Coventry Blaze, in the opening period. The first marker came in the 11th minute via Orvhall on a well-worked 5on3 powerplay opportunity for the hosts. Another brief 5on3 was afforded to the hosts but a good kill by the Blaze ensured they would remain just the solitary goal behind. The minor penalties continued to be racked up by both teams and during a spell of 4on4 hockey, blueliner Hazeldine expertly used the extra ice to skate into the attacking zone and fire a booming shot into the Blaze net.
The theme of continuous minor penalties persisted in the early stages of the middle twenty and on this occasion the Blaze would take full advantage. In the 23rd minute, ex-Clan forward Yellow Horn picked his spot from the middle of the zone to fire beyond Lavigne. The visitors would drag themselves level in the 29th minute through Halbert, again on the powerplay.
The 2-2 scoreline would remain heading into the final period. The Blaze momentum carried over into the third, as in the 45th minute of action they would take their first lead of the match through Vesley, whose timely arrival into the zone saw him skate onto a loose puck. Although, the Storm would not be deterred by falling behind, as a freewheeling Bricknell wristed the puck beyond Holsa, in the Blaze net, with 11 minutes remaining in the match. The seesawing nature of the game saw Coventry retake the lead through the impressive Tallberg, in the 52nd minute, as the Swedish import took full advantage of another free puck infront of the Storm goal. With just over six minutes left, Orvhall would secure a powerplay brace and restore parity heading into the closing and vital moments of the encounter.
A tightly controlled end to the last period saw the game rightfully go into overtime, as neither team could at this point be separated. It appeared as though the match would be heading into penalty shots until Curran found himself 1on1 with Lavigne and with 32 seconds remaining in overtime buried the opportunity to hand the Blaze both points.