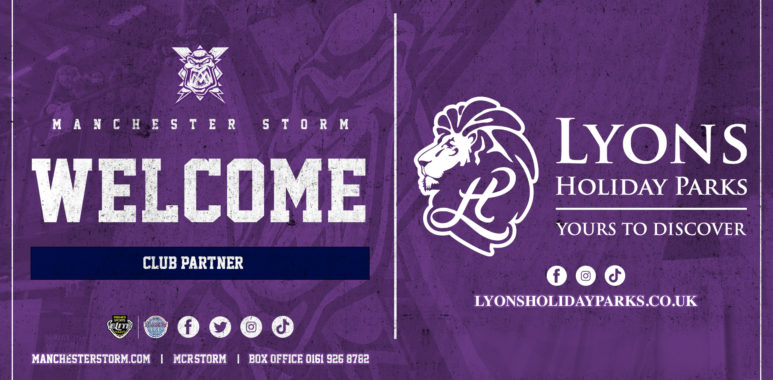 Manchester Storm form partnership with Lyons Holiday Parks!
Manchester Storm are delighted to announce official partnership with Lyons Holiday Parks for the 2022/23 Elite League season! 
Lyons Holiday Parks are a family run business that specialise in holiday breaks, touring & camping and holiday home ownership. The family began catering to guests with converted double-decker buses in 1930s Rhyl, but the firm has since expanded across the North Wales coast. 
With 20 stunning holiday parks spanning the coast and countryside of North Wales and Cumbria, and a wealth of accommodation types including static caravans, camping, touring, glamping pods and private hire farmhouse and holiday cottages there is something for everyone. 
Check out Lyons Holiday Parks official website HERE 

Danny Martin, Head of Holiday Home Sales had this to say on the newly formed partnership; "We're incredibly excited to be sponsoring such a team, as supporters of ice hockey and Manchester being a key area for our Lyons customers it made sense to be supporting such a team. We love forming relationships with our customers, and what matters to them matters to us. We can't wait to come and support the team this season". 

Joseph Lyons Mounds Junior, one of the Directors continued; "We're not just committed to our own communities, but to those across the border too, and over the years we've got to know some wonderful people from Manchester, and other towns in the region, who enjoy our 20 holiday parks. Joining the Lyons family, whether as a guest or an owner, means becoming part of a community of like-minded people who cherish the same things: family, communities, and celebrating the good times. It's an honour to work alongside such a long-standing brand as Manchester Storm and we can't wait to see where our paths take us".
The club are excited to form a partnership with a reputable, multi-generation family run business. Ice Hockey in the UK is well renowned for being a family sport and this is certainly a great fit for all involved.
Follow Lyons Parks on Instagram & TikTok at @lyonsparks
Follow Lyons Parks on Facebook at @lyonsparks