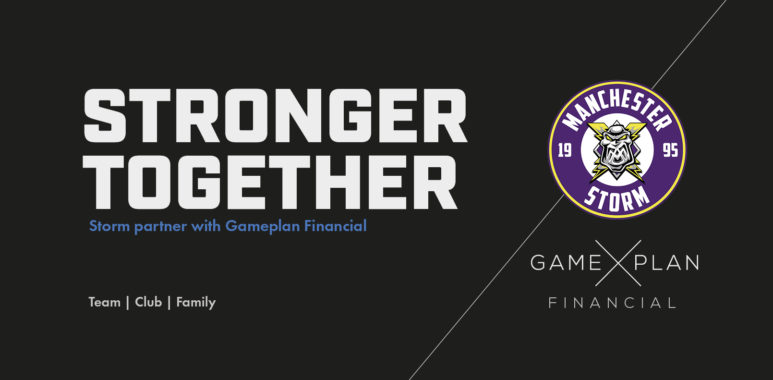 STORM PARTNER WITH GAMEPLAN FINANCIAL
STORM PARTNER WITH GAMEPLAN FINANCIAL
The Manchester Storm are excited to announce a partnership with Gameplan Financial. Gameplan is life changing for both their clients and the advisors that work for them. Gameplan specialises in providing bespoke life insurance packages and mortgage advice for their clients and have committed to investing into our club via a referral scheme.
Made up of current and former professional athletes, the company was set up to provide career opportunities and help athletes to prepare for a life after sport. The company recruits athletes whilst they are still playing and provides all of the training and qualifications necessary to enable a career in financial services.
Manchester Storm Head Coach Ryan Finnerty had this to say:
"When Paul approached us regarding a potential partnership with the Storm, we sat down and went through the details and what it is they do. It got me thinking of my families situation and we asked Gameplan to have a look over our existing policies. We ended up with more cover for less money.
They also set us up with a free will and put all of our policies in trust. I was blown away at how simple and fast it was to get set up. My wife had been hounding me to get it done and I always pushed it off as most of us do.
We are excited to work with a company that's not only generating much needed income for the club, but also providing a pathway for players exiting their careers. Leaving the sport you love and making the transition into the 'real world' can be very challenging.

I encourage all of our fan base to make the time to sit down with the Gameplan team to secure their financial future and take advantage of their free will and trust service like I did."
Former Elite League player Paul Sample is one of the founding partners of Gameplan. Sample played for Belfast, Cardiff, Sheffield and Newcastle during his professional career. He started Gameplan because he saw a huge need for this in the marketplace and also recognised the opportunity for pro athletes to build a career that they could continue after they finish playing professionally. Paul explained the partnership:
"Our business is centred within the ice hockey community and is built around the concept that the players and ex-players are providing complimentary advice to the wider "hockey family", to ensure they are in the best possible position should the worst happen.
Our advisers are paid by the providers we work with and have committed to investing a percentage of all earnings back into the clubs that have been such a big part of their lives."
If you would like to contact Gameplan or have any questions regarding your current protection policies or mortgages please email: ryan@gameplanfinancial.co.uk