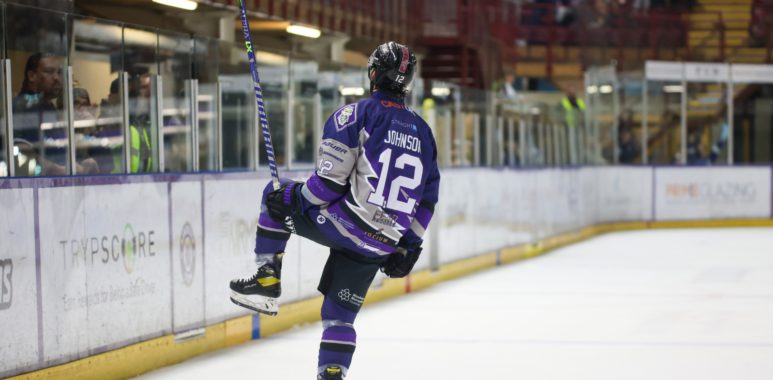 STORM OPEN CHALLENGE CUP CAMPAIGN WITH BIG WIN AGAINST NOTTINGHAM!
A man of the match performance from GB defenceman Joe Hazeldine led Storm to an impressive 5-1 win over the Nottingham Panthers in their opening Challenge Cup fixture.
Storm started fast with Jesper Öhrvall bundling the puck past Alex Dubeau in the Panthers goal after just 48 seconds. Hazeldine – lining up against his younger brother Archie for the first time in pro hockey – scored what proved to be the game winner with a sweet one timer at 11:14 after a fine feed from Stephen Johnson.
Brett Welychka got Nottingham on the board at 12:30 but that was as good as it got for the visitors. Zac Herrmann restored the two goal lead at 27:21, skating around the net before firing in for his first goal in professional hockey.
The Storm lead grew further when Johnson pounced on a power play chance at 32:45, giving Ryan Barrow his third assist of the evening. Panthers pressed for a way back into the game in the third period but could find no further way past Hayden Lavigne, who finished the game with 45 saves.
Tyson Fawcett iced the game with a fifth goal at 55:46, sliding the puck home into the empty net after Panthers coach Gary Graham had gambled on an early goalie pull.
UP NEXT: after a cup trip to Sheffield on Saturday night, Storm are back on home ice with some midweek hockey against the Guildford Flames on Wednesday 21st September. Tickets for this fixture are available now online HERE, by calling 0161-926-8782 or in person at the Planet Ice Box Office.