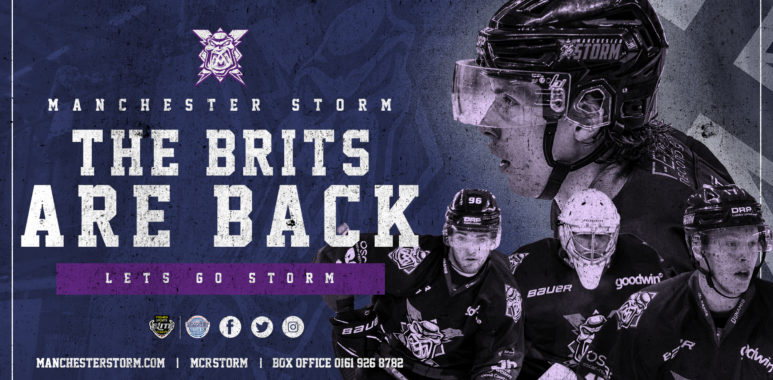 STORM OFFICIALLY ANNOUNCE BRIT PACK AHEAD OF NEW SEASON
Manchester Storm are excited to confirm the return of British quartet: James Downie, Joseph Hazeldine, Finlay Ulrick and Ben Solder.
James Downie had an impressive first season with the Storm; despite the side struggling to find consistency in the crease after the loss of their number one, Matt Ginn, to injury. The dual-national is currently representing Newcastle Northstars in the Australian Ice Hockey League, posting a stat-line of .893 SV% and 3.45 GAA.
Joseph Hazeldine full debut campaign in Manchester saw him named to the GB reserves list for the most recent World Championships – which is a particularly remarkable feat considering the blueliner is just 21. The smooth-skating defencemen enjoyed his most productive campaign in the EIHL, in terms of points and time on ice in 2021. This season will be his second within his initial three-year deal. 
Ben Solder split last season between the Storm and NIHL side Leeds Knights. When called-up to the EIHL, Solder made several notable and consistent performance for the franchise on the blueline – as the club battled through multiple key injuries. Ben will spend the 2022/23 season on a two-way deal once again with an NIHL side (yet to be announced).
Finlay Ulrick will be returning for his third full EIHL campaign with the Storm – having so far made 85 league appearances for the franchise. A good start to the year saw Ulrick afforded big-minutes and opportunity within the matchday line-up. Unfortunately, an injury and roster alterations saw his ice-time dimmish towards the latter stages of the previous campaign; however, the quick-skating forward has plenty of potential and the recent departure of Gulliver places huge importance on his role within the squad. This season will be his second within his three-year deal signed in 2021. 
Matt Ginn had this to say about the quadruple British returnees: 
"James (Downie) had a really solid first professional season and it was great to see him given plenty of opportunity. He is a big goalie – that moves well between the pipes and is driven to get better each day. I am excited to work alongside him and continue his development.
Joe (Hazeldine) is a really smooth-skating defenceman that can move the puck confidently around the ice. Last year was his first full season inside the Top 6 of a professional line-up and he handled the added responsibility really well. I expect to see him take that next big step this year – in terms of his overall game. We have had conversations about becoming harder to play against in the d-zone and then letting his natural ability take over. 
Ben (Solder) is a great talent and individual. It is a real luxury having the option to call him up and I know he is focused on securing a full-time role in the EIHL. His development in Leeds was noticeable when he returned to our squad throughout last season. Logging big minutes in the NIHL is only going to benefit his game long-term and we will be seeing him for training in August to start his push for a full-time position.
Finlay (Ulrick) was really coming into his own and showing some excellent form before an injury sadly curtailed his year. He is a really hardworking individual and an outstanding teammate. For somebody his age, it is amazing to be able to play all three forward positions and I will be looking to increase his role further in the matchday line-up. I want Finlay to make use of the opportunities he is going to get, as I feel he has the potential to become a top-end British player in the not-too-distant future."
At this time, forward Jacob Lutwyche is looking to move abroad to continue his education and the club wish him all the best. We will update you all with more news on this as we receive it.