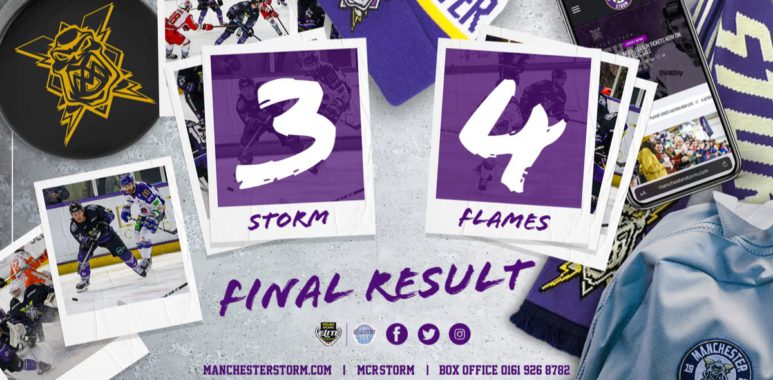 Storm narrowly lose hugely entertaining encounter against Flames
A hugely entertaining encounter between the Storm and Flames would the Surrey based outfit taking the slender 4-3 victory.
An evenly matched opening period was fiercely contested between the Storm and Flames, in the hosts' final preseason home encounter. An outstanding save by McAdam maintained parity for his side, in the 12th minute, as he stonewalled the in-form Johnson. A wonderful cross-zone pass from Barrow, on the powerplay, found the returning Orvhall in-front of the net whose emphatic finish into the roof of the net broke the deadlock with just over three minutes remaining in the period.
The Storm doubled their advantage whilst shorthanded through the experienced duo of Fawcett and Ehrhardt, with the forward finishing on his backhand – in the 25th minute. A fortuitous bounce of the puck furthered the hosts lead via the body of Barrow in the 31st minute. Although, the three-goal advantage would be quickly reduced when a defensive error allowed Marklund the time to pick his spot from the slot less than sixty seconds later.
Several minor penalties punctuated the remaining parts of the middle period and largely disrupted the flow of the game; consequently, the 3-1 scoreline, in favour of the Storm, persisted until the end of the second. A well-worked offensive play by the Flames saw them score a second goal on the night, in the 45th minute, from just left of the hashmarks. At this point in the encounter momentum was firmly in favour of the visitors and they would deservedly draw level before the midway point in the final period – setting-up a pensive final ten minutes inside the Storm Shelter.
Two spectacular saves from McAdam somehow thwarted the attacking pressure from the Storm in the closing moments of the game to keep the score level. The Flames extra effort would be rewarded in the dying minutes of the match, as they found a way beyond Lavigne to secure the 4-3 victory with just over two minutes remaining in the match.